'There are a lot of wasted resources going into landfills,' said Mike Chassie, VP of Halifax C&D Recycling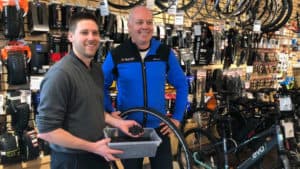 A local recycling company is looking to partner with bicycle shops across Nova Scotia to give old tires a second life under the hooves of horses, instead of seeing the rubber dumped into the province's landfills.
Halifax C&D Recycling Ltd. started the program a week ago, without government involvement, and so far has partnered with Cyclesmith, a bike shop in Halifax.
The shop's staff put used bicycle tires into a collection bag, and every one or two weeks Halifax C&D will come to collect them.
"Cyclists are more involved in the environment," said Cyclesmith owner Andrew Feenstra. "They are more aware of what's going on in the environment because they are outside all the time, so it's just a natural progression and the right thing to do."
'Crumb rubber is a valuable product'
Mike Chassie, the vice-president of Halifax C&D Recycling, said the company hopes to include any bike shop willing to participate in the program.
"Bicycle tires are very easy to recycle," he said. "They're small, they granulate very easily so you can make crumb rubber out of it, and a crumb rubber is a valuable product, so you can sell it."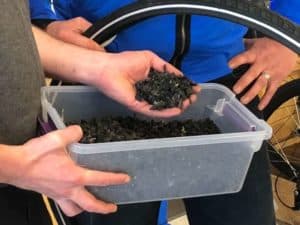 The company is looking to sell the crumb rubber to the equestrian community as footing for arenas.
"The horses find it more comfortable to ride on and it's safer," said Chassie.
The recycling process will have zero waste, according to Chassie. Any pieces of "rubber fluff" will be incorporated into the company's plastic lumber products, which are used for decks, molding and garden furniture.
Halifax C&D has come up with a variety other ways to recycle waste, including taking construction debris like drywall and turning it into bedding for cows. But the company is keeping an eye out for new opportunities.
"There are a lot of wasted resources going into landfills and we think with the right amount of research we can take them out of the landfill and market them as a product," Chassie said.
Halifax C&D will donate $1,000 of the bicycle program's anticipated revenue to the McIntosh Run Watershed Association, an organization committed to sustainable public access. The donation will help build and maintain the single-track trails in the watershed.
"People use their bikes on the trails, so we wanted to give back to an association that promotes healthy living," said Chassie.