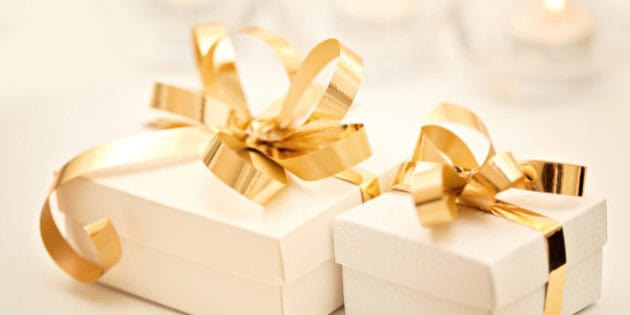 One of the accepted forms of extravagance in our society is a lavish wedding. You can see this in the rule that the dollar value of your wedding gift should "cover your plate" or, in other words, be equivalent to the cost of the food and booze you consume at the event.
The underlying attitude here is that it's our duty to underwrite expensive weddings by chipping in with a gift that recognizes the financial burden carried by the happy couple and possibly their families.
Just in time for wedding season comes a welcome dismissal of this rule.
In a post on the Two Cents blog, etiquette expert Lizzie Post (great-great-granddaughter of Emily Post) is quoted as saying that a wedding present should always be within your personal budget. "You decide that based on your connection to the person getting married, your own gift-giving style, desire and generosity in that moment and what's feasible for you to do," Ms. Post says.
The risk in giving within your budget is that you'll look cheap. The blog post on Two Cents has a good response to this: "If your friends are really worried that you didn't spend enough on a gift—well, they're probably not great friends anyway."
A survey done last year found that Canadians on average believe that $147 is the right amount for a wedding present. One in 10 people in the survey thought they should spend less.