The M City complex and Hurontario LRT are scheduled to open in 2021 and 2022, respectively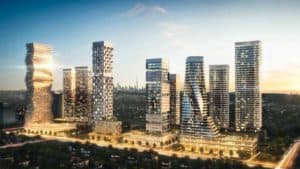 The start of construction for a $1.5 billion condo complex is being hailed as a major step in Mississauga's ongoing evolution into a full-fledged urban centre.
Developers are set to host a ceremonial groundbreaking Monday at M City, a 10-tower, 15-acre development to be built on the west side of the city's burgeoning downtown core, at 3980 Confederation Parkway.
"I think it's going to transform Mississauga," said Mark Reeve, a partner at Urban Capital Property Group, one of the developers behind the project.
The first two towers of the complex are scheduled to be completed in 2021, one year before the scheduled opening of the Hurontario LRT, which will include a stop just blocks from M City.
There are hopes that the combination of housing and transit will help Mississauga in its ongoing evolution from a sprawling bedroom community into a modern city where people live and work.
Mayor Bonnie Crombie said the complex will help the area achieve its goals of becoming a "vibrant, livable, walkable downtown.
"The M City announcement is a really important milestone," she said.
That vision for the city was most recently laid out by Mississauga in its Downtown21 master plan, which called for a "significant transformation" of the downtown core from a suburban to an urban space.
"I think it's happening right now," said Reeve of the master plan. "In five years, you won't recognize [Mississauga,]" he added.
'The future of the GTA'
Urban planners say the complex and upcoming rapid transit projects have put Mississauga at the forefront of Toronto's suburbs when it comes to planning and intensification.
"Mississauga really represents the future of the Greater Toronto Area," said Graham Haines, a research manager at the Ryerson City Building Institute. "It's a municipality that's starting to figure out how to build up instead of build out."
In March, Haines published a report that examined how Mississauga can best prepare itself for its expected population growth.
With the right planning and developments, he found the city could accommodate 160,000 new homes, and as much as 80 per cent of all projected growth in Peel Region until 2041.
The best way to accommodate that growth, he said, is through the construction of so-called "missing middle" housing — homes such as townhouses and mid-rises.
While researchers say the towers at M City are a good fit for downtown Mississauga, they warn it's not a model that will work across the city.
"It doesn't mean that we need to build towers everywhere," said Cherise Burda, the institute's executive director.
Jobs still needed
Burda said the city is on the right path to achieve it goals, and that among the GTA municipalities, Mississauga is "leading the region in thoughtful intensification planning."
However, the city needs more than condos and transit if it is to achieve its full potential. That will take jobs too, researchers say.
"This M City condos project is an exciting one for sure, but it's largely residential," Haines said.
The next stage is to attract more jobs and office towers to downtown Mississauga.
That effort will be the "key inflection point," he said, that will determine the city's success in its transformation.
Crombie says those jobs are on the way, as part of Mississauga's expected population boom of around 200,000 people over the next 25 years.
That growth will create more than 100,000 new jobs in the city, she said.