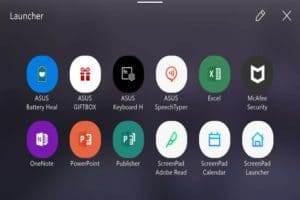 Several app extensions are now available on the Microsoft Store that point to an upcoming "ScreenPad" feature designed by Asus. Presumably, it will be something akin to the Touch Bar on Apple's latest MacBook Pro, only it may replace the touchpad you typically find on a laptop rather than reside in a patent-infringing location above the keyboard.
With this feature, laptop owners could tap an app icon rendered on the small ScreenPad display and then control that app with a ScreenPad widget once it launches on your laptop's main display. For instance, you could launch the Windows 10 Calculator app and enter your digits using the ScreenPad instead of pecking at the number keys on the keyboard.
Another example is YouTube. Once you load the site in Chrome, controls for managing playback appear on the new ScreenPad component. For Microsoft's Office suite, ScreenPad can list your most-used functions to "reduce cursor moving" such as changing font color, creating a table, and more.
Here are the supporting extensions that have already appeared on the Microsoft Store:
Adobe Reader Sign
Calculator
Calendar
Launcher
Music Player
Numkey
Office
SpeechTyper
Spotify
YouTube
One of the more notable published extensions for ScreenPad is the Launcher. According to the description, users could "customize the app list and instantly launch the app in the list via ScreenPad Launcher." Screenshots show quick access to Asus-specific tools such as Asus Battery Heal and Asus Giftbox while you'll also find an icon for McAfee Security too. Windows 10 extensions include File Explorer and the Windows 10 Feedback Hub.
Meanwhile, the Spotify extension is only supported by Spotify Premium. With this touch-based tool, you can quickly control playback with a touch, scroll through music categories, scroll through new releases, manage your library, and more. A Spotify subscription costs $10 per month.
Based on the minimum hardware requirements seen in each listing, laptops with the ScreenPad feature will demand a discrete graphics processor: the GeForce GTX 970 / GTX 1060 at the very least. It will essentially be a precision touchpad combined with a touch screen powered by the company's precision touchpad driver. Laptops will also require the ITE8225 microcontroller unit along with Toshiba's TC358870XBG chip to handle the screen's internal HDMI connection.
What is not exactly clear is how the ScreenPad switches from your typical touchpad input to a touchscreen. Will it continuously render an icon in the corner to open a launchpad for loading apps? Or will laptop owners need to press a dedicated hotkey to activate the launcher? The latter seems more likely given a laptop rendering two displays would drain its battery rather quick.
Based on the publish dates, many extensions for the upcoming ScreenPad component arrived toward the end of 2017. For instance, the Launcher and Numkey extensions surfaced on November 21, 2017, followed by Calendar (November 23), Office (December 5), and YouTube (December 22). Calculator and Music Player hit the Microsoft Store in January followed by SpeechTyper in February and Adobe Reader Sign and Spotify in April.
We expect to know more about the ScreenPad component during the Computex show next week.