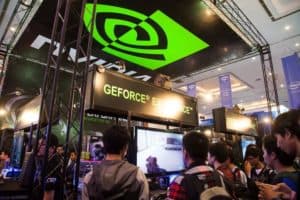 Nvidia is gearing up to begin the second phase of construction at its Santa Clara, California headquarters. After completing construction on phase 1 — a 500,000-square feet building called Endeavor on its campus — in 2017, Nvidia is ready to break ground on a second building called Voyager totaling 750,000 square feet. Both buildings will be situated next to each other and share a similar futuristic design with a dramatic and flowing sculptural roof that was conceived by architectural firm Gensler.
For Voyager, Nvidia changed its mind on the total size of the building, adding 50 percent more space to the 500,000-square-foot plan by adding a third story to the construction, according to The Mercury News. "It was to be identical to phase 1, which they just occupied, which is 500,000 square feet in two stories," Julie Leiker, a market research director with Cushman and Wakefield, told the newspaper. "They will add a third story to make it 750,000 square feet."
Nvidia said it was still working out staffing plans, according to TechCrunch, but given that Endeavor's 500,000-square-foot two-story structure houses 2,500 workers, the larger Voyager structure could potentially accommodate up to 3,750. Likely, the headquarters can staff up to 6,250 employees across Endeavor and Voyager. Nvidia employees approximately 11,500 people globally with some 5,000 in Santa Clara, so the larger Voyager building could allow Nvidia room to grow in the future without requiring more space for expansion.
Like Endeavor, Voyager was shown in a photo-realistic rendering featuring a similar sculptural rooftop design with skylights and underground parking. The buildings appear to be connected via an open space area. Devcon, which was hired to construct Endeavor, will return for work on Voyager once construction begins in June.
Although it sounds like Nvidia drew inspiration from Star Trek for the names of its buildings, the real reason is that these words start with the sounds of "En" and "V," which has the initial sounds as Nvidia, the company told TechCrunch.
Silicon Valley has recently become a hotbed of new construction for the technology industry. After having completed work on its headquarters in neighboring Cupertino, Califonia, Apple is also working on a second campus in Sunnyvale, California featuring a similar spaceship design. Google's proposed campus in San Jose, California is expected to bring 15,000 to 20,000 jobs to the area, according to ABC News.
In addition to Voyager and Endeavor, Nvidia has a third phase. In total, the city of Santa Clara had authorized Nvidia to construct 1.95 million square feet of offices, so this could mean that Nvidia will have to scale down plans for a third building.