Give an iPhone to Daisy and she'll tear it apart in minutes, reducing it to a pile of bits quicker than you can say, "Hey, Siri, what the heck is she doing to my phone?" No, Dasiy isn't some psychopathic, Apple-hating maniac. She's actually a robot designed by Apple to help the company meet its recycling targets.
Apple unveiled Daisy just ahead of this Sunday's Earth Day, a global event held annually to highlight environmental protection. The remarkable machine is a more advanced version of Liam, a robot unveiled by the tech company two years ago to perform the same task.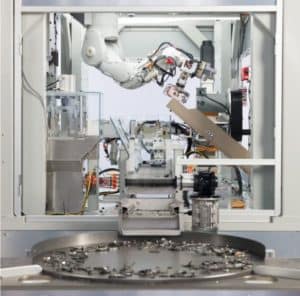 Daisy is part of Apple's efforts to create a healthier planet through innovation, helping it move toward its goal of making its products using only recycled or renewable materials.
Smartphones hold lots of valuable materials — gold, copper, platinum, lithium, aluminum, and steel among them — that can be recycled and used to create new electronic devices. Able to handle nine different versions of the iPhone, Daisy can take apart as many 200 handsets per hour, removing and sorting the materials without damaging them in the process.
Daisy starts off by scanning the phone to work out the make and model so that it knows the precise amount, as well as layout, of the components inside. Using a range of attachments and suction cups, the highly dexterous robot then disassembles the phone with great precision, separating the various parts and metals, most of which can be used again.
To incentivize customers to recycle their old handsets, the company is promising to make a donation to the non-profit Conservation International for every iPhone handed in at Apple stores and via apple.com through the Apple GiveBack program until April 30. Eligible devices will receive credit that you can use toward an in-store purchase or put on an Apple Store Gift Card for future use.
"At Apple, we're constantly working toward smart solutions to address climate change and conserve our planet's precious resources," Lisa Jackson, Apple's VP of environment, policy and social initiatives, said in a release highlighting the company's ongoing green efforts. "In recognition of Earth Day, we are making it as simple as possible for our customers to recycle devices and do something good for the planet through Apple GiveBack. We're also thrilled to introduce Daisy to the world, as she represents what's possible when innovation and conservation meet."
Plunk Daisy in an Apple Store so that we can all watch her amazing skills and we bet a whole lot more people would turn up with their aging iPhone. Perhaps Apple could use the robot as a ploy to get more people to upgrade!