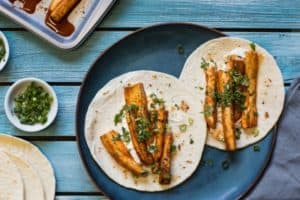 Flippy, the aptly named burger-flipping robot currently employed by CaliBurger, will soon have some serious competition in the kitchen, if Sony gets its way.
The Japanese electronics giant is teaming up with Carnegie Mellon University (CMU) to collaborate on artificial intelligence (A.I.) and robotics research, beginning with a focus on optimizing food preparation, cooking, and delivery.
They chose this particular area because the tasks involved in food prep and delivery are both complex and varied, and so the resulting technology has a better chance of being applied to a broad range of industries at a later date.
So expect to see the development of robots that can handle "fragile and irregularly shaped materials and carry out complex household and small business tasks," the team said in a release. Creating robots that are small in size will also be at the forefront of the team's goals, as much food preparation and delivery work is carried out in relatively tight spaces. Again, such diminutive designs could have the ability to be transferred to other industries once the technology has been refined.
The research team comprises robotics, artificial intelligence, and machine learning experts and will work mainly at CMU's School of Computer Science in Pittsburgh, Pennsylvania. Sony's Dr. Hiroaki Kitano, who is leading the team, said the project has the potential "to make the vast possibilities of A.I. and robotics more familiar and accessible to the general public," adding, "Additionally, it could also assist those for whom daily tasks, such as food preparation, are challenging."
Andrew Moore, dean of CMU's School of Computer Science, described making and serving food as "an immense challenge for automation, so we're excited about the types of machines and software that might emerge as we jointly explore a variety of approaches and solutions." He said he was confident the research will lead to "technologies that impact robotics across a broad number of applications."
Creating skilfull kitchen robots has been the focus of a number of technology companies for several years now. Besides Miso Robotics' Flippy bot, London-based Moley Robotics is also developing what it calls a "robot kitchen," essentially a pair of robotic arms (complete with five-fingered hands) capable of precision movements that help to knock together your favorite dish. The amazing idea behind Moley's design is that, once perfected, it'll be able to learn a recipe by watching any chef and then make it available to anyone, anywhere, at the tap of a button (so long as you have the correct ingredients in, that is!).