High-voltage lines a requirement of the Maritime Link project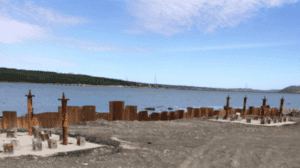 After a three-month delay, Nova Scotia Power is erecting huge overhead power lines over the Strait of Canso, a requirement of the Maritime Link project that will also serve as a backup power connection to Cape Breton Island.
The power line project was delayed in December 2017 when the hard line, which is used to guide and pull the conductor, broke.
"There was a mechanical equipment failure between the hard line and the conductor, while attempting to pull the conductor," said Tom Flewwelling, project manager for Nova Scotia Power.
No one was injured when the pilot line fell to the ground and water below.
The pulling sleeve on the hard line was redesigned, strengthened and tested in a lab, before it was successfully installed with the help of a helicopter on Monday.
Crews will now attempt to pull one of the six conductor lines from Troy to Aulds Cove.
"The main challenges associated with this phase of the project are the weight and size of the conductor, the weather, the extreme winds," Flewwelling said. "Highway traffic must be stopped for a short period of time periodically throughout the day while we string conductor across the highway."
Flewwelling expects the traffic holdups should not last more than five minutes at a time. It will take six to eight weeks to install the lines.
"One would think that this project is relatively straight forward — six towers, six power lines — although it's not. It's been very challenging, primarily because of the nature of the project. Everything is just so big."