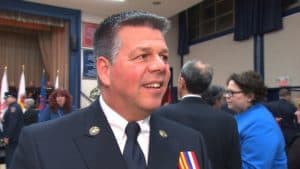 Sylvain Ricard has been responding to calls for 30 years.
And on Thursday, the Montreal fire chief was recognized for his service — alongside dozens more of the city's longest-serving firefighters.
"We touch people every day. For 30 years, this is great and very rewarding," said Ricard, an operations chief who works in the boroughs of Ville Saint-Laurent and Ahuntsic-Cartierville.
Ricard was among about 50 firefighters who were recognized for their dedicated service at a special medals ceremony.
They will wear the medals they were awarded on their uniforms for the rest of their careers.
The ceremony featured a band and a small parade and top officials from the Montreal fire service also spoke.
Richard Liebman, deputy director of the Montreal Fire Department, said the awards were a way to say thank you.
"Firefighters make a lot of sacrifices in their personal lives," Liebman said, including working long hours and dealing with unpredictable schedules.
"And every time they go to work they put their lives at risk."
For his part, Ricard said his decades on the force have gone by in a flash.
"It's special. What can I say? When people recognize what you're doing for so long, it's touching."