Elementary school in Kensington finds costs comparable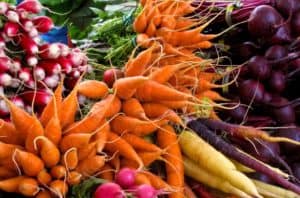 A study looking at getting more locally sourced, organic food on the menu at an elementary school in Kensington, P.E.I. has shown positive results.
The P.E.I. Certified Organic Producers Cooperative looked at cost, delivery, and whether local producers would have enough to supply Queen Elizabeth Elementary reliably.
Karen Murchison, the project's research co-ordinator, said the costs were comparable — at $1 more a pound for locally sourced, organic food.
Order in larger volume
The school tapped into a local delivery service, which saves the chef time because she is able to order in larger volume and store the food at the school.
"Her sourcing model was actually quite inefficient," Murchison said. "She was actually going out and purchasing retail and then bringing it back to the school and so on and doing that weekly and sometime on a daily basis so this is a much more efficient way of having the product delivered."
Murchison said the model would work for schools in the central region of the province where the delivery services operate.
But she said the delivery service isn't available in the far eastern and western reaches of P.E.I.