Merchants brace for slump when $55M refurbishment project gets underway but agree work is needed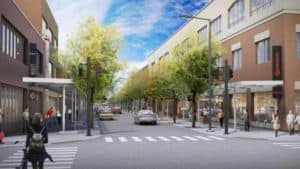 Wider sidewalks, more trees and a new overhead awning — those are just some of the changes Saint-Hubert Plaza will undergo when the aging outdoor mall is rebuilt, starting in August.
Construction on the $55-million refurbishment project, unveiled by Mayor Valérie Plante on Wednesday, is expected to be completed in 2020.
"We will be working with the business owners to make sure that we still keep [the street] alive," Plante said at a news conference.
The most noticeable change to the plaza will be the dismantling of the 33-year-old glass structure that hangs over the sidewalks, which will be replaced with a "lighter and clearer" awning.
Trees will be planted on both sides of St-Hubert Street, the sidewalks will be repaved and widened to accommodate more patios and benches, and two new public spaces will be built.
The street's sewer and water systems will also be updated.
Plante said construction will be carried out in phases, "so we don't have to close the entire street."
"We want to make sure that our businesses are doing well," she said.
"We've seen it's even hard for them to survive, when there's a construction site that takes a very, very long time."
'Good news'
The plan is being met with cautious optimism by merchants on the plaza, which runs from Jean-Talon Street to Bellechasse Street.
"It's all good news for us," said Mike Parente, head of the St-Hubert Plaza Merchants Association.
Parente told CBC that reducing the slope of the awnings will expose more of the storefronts, allowing businesses to rebuild their second and third floors.
He said he was happy the city made changes to the plan after it was first announced last year.
"What reassures me is that up until now, with all the past experiences that the city has had, they've learned from mistakes, and they've improved on what they've done," he said.
Slump in business expected
George Lekas, who owns Le Roi du Smoked Meat, a restaurant just north of Saint-Zotique Street, said he expected his business to drop slightly during the construction period.
But he conceded the work needs to happen.
"We're just hoping for the best, that it's not too bad, but we obviously expect a little more quiet times in the future because of it," he said.
Lekas said he may have to reduce his employees' hours to make up for lost income, but he was confident his business would survive.
"I heard in the 70s this used to be like the downtown of Montreal," he said.
"So hopefully we'll get it to a certain level, almost to that level again. It will benefit everybody."
The mayor said the city will introduce a plan to provide businesses that suffer financially as a result of the construction with tax relief.
The eligibility criteria for that relief will be unveiled later this year, Plante said.