'I forget I'm that old, I just keep going along'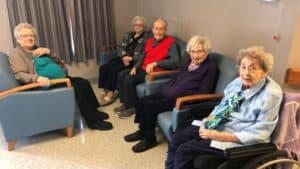 The Garden Home in Charlottetown has a record number of centenarians this year — as of June the P.E.I. seniors home will have five residents who are one hundred years old or older, the most its ever had.
"Five is a blessing, I've never heard of it," said Angela Boudreau, director of activities for the Garden Home.
"I think it's amazing."
Boudreau said when she realized they had so many centenarians she wanted to do something special.
She organized a gathering to get them all together and called the meetings "Words of Wisdom."
The group chats during the session and shares memories from days gone by.
"They are full of history and they are the best history teachers that you could have," Boudreau said.
"I personally enjoy sitting down and talking about how they grew up and what things were in their life, like what they did for excitement and their struggles and their heartaches and their happiness."
"I mean they all come together and they enjoy talking about it and they light up on certain things that they speak of."
Elinor Smith
Elinor Smith worked as a teacher and as a manager in a department store and raised five children in her 102 years.
"I forget I'm that old, I just keep going along," she said.
"Well, you have to enjoy what you're doing or you're going to be cranky."
Smith shared a story of how she had to escort a thief out of the store down to the police station using a hand gun — as that was the policy at the time.
"They were stealing things from the fitting room," she said.
"The gun was loaded, the gun was a little shivery, I wondered if I could do it without fainting."
Smith said in life it's important to think and learn as you go.
"We're learning how to manage our lives, you have to think for yourself."
Fred Hughes
Fred Hughes turned 100 years old last December. He shared stories of loving horses and growing up on a farm in Covehead, P.E.I.
He said living for a century is no big deal.
"Well I've been 99 for quite a little while, so I'm finally 100, it seems okay," Hughes said.
"It's a little bigger birthday, that's about all."
He said it's important to keep up with the times and credits his old age to the good food he ate growing up.
"We always had good meals, home cooked meals," he said.
Edna Ellsworth
Edna Ellsworth actually turns one hundred in June, but they let her in the club early. She worked on the farm and raised 14 children.
"My favourite thing from those times was looking after those children and bringing them up," Ellsworth said.
And it's important to have a sense of humour along the way.
"People should learn to be jolly and laugh," Ellsworth said.
She remembers working at Pete Burke's Hotel as a girl and also at a lobster factory.
Edith Mullen
Edith Mullen is over 102 years old and was raised in Portage, P.E.I.
She said living for more century is hard to believe and that time has passed quickly.
Gladys Blacquiere
Gladys Blacquiere turned a 100 in February but, she said with a laugh, that she keeps it a secret.
She grew up in England and was a seamstress during the Second World War.
She suggested people should travel and have adventures.
"Just get up and do what you want to do," Blacquiere said.