Canada has considerable untapped potential in its labour force, says Stephen Poloz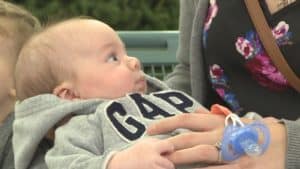 The head of the Bank of Canada is pointing to Quebec's subsidized child-care program as a possible tool to boost the entire economy because it could significantly raise female workforce participation across the country.
In a speech Tuesday, bank governor Stephen Poloz used Quebec's affordable child-care model as one way to show how Canada could unlock some of the considerable untapped potential in its labour force.
Helping more women, young people, Indigenous peoples, recent immigrants and Canadians living with disabilities enter the job market could help the labour force expand by half a million people, he said. By his estimate, that kind of workforce injection could raise the country's output by $30 billion per year or 1.5 per cent.
"That's equal to a permanent increase in output of almost $1,000 per Canadian every year, even before you factor in the possible investment and productivity gains that would come with such an increase in labour supply," said prepared remarks of Poloz's speech at Queen's University in Kingston, Ont.
"Clearly, that is a prize worth pursuing."
He added that encouraging more people into the workforce would also enable Canada to permanently raise its growth capacity without generating higher inflation.
Poloz highlighted Quebec's child-care program as one model to help women, which he noted represent the largest source of economic potential, enter the workforce.
He credited the province's child-care program for raising prime-age female workforce participation from 74 per cent 20 years ago to about 87 per cent today. In comparison, he said about 83 per cent of prime-age women participate in the national workforce.
"If we could simply bring the participation rate of prime-age women in the rest of Canada up to the level in Quebec, we could add almost 300,000 people to our country's workforce," said Poloz, who noted the central bank has no role in implementing specific policies designed to break down labour-force barriers.
He noted that the federal government's budget last month made commitments aimed at increasing the labour-force participation of women.
However, some economists and critics have said while the federal budget took steps in the right direction, they argued its failure to announce steps towards national affordable child care likely means a significant number of women will remain out of the workforce.