Saskatoon's 1st electric carshare vehicle will be parked in City Park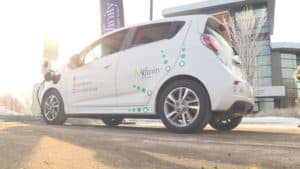 Saskatchewan's first solar-powered vehicle to be part of a carshare program is ready to be booked.
It's one of only 160 electric vehicles in the province, which does not offer incentives to purchase or use electric vehicles.
The Saskatchewan Environmental Society and the Saskatoon Carshare Co-operative have collaborated to bring the 2015 Chevrolet Spark to Saskatoon's City Park neighbourhood.
The vehicle is parked in the Affinity Credit Union lot off Seventh Avenue N.
The charging station is currently using electricity generated by Saskatoon Light and Power, gathered as solar energy. The program has plans to install its own renewable energy installation.
There are other charging stations open to the public in Saskatoon, including stations at Peavey Mart, the Confederation Inn, and the Delta Bessborough.
The Spark can be driven for 140 kilometres before it needs a charge in warm weather, and about 90 kilometres during the winter.
City council, the Saskatchewan Research Council, and several organizations and businesses have supported the endeavour.
"It's time; it needs to happen," said Allyson Brady, Saskatchewan Environment Society's executive director.
"There's so much momentum around car sharing and electric vehicles."
Carshare hoping to grow membership
The Carshare Co-operative's other vehicles are parked at Eighth Street and Broadway, and behind Broadway Roastery in Nutana.
"People generally will use the vehicles for short trips for groceries or heading to a meeting on the other side of town," said Megan Van Buskirk, Saskatoon Carshare's co-ordinator.
"For the most part, it's just people who live in the neighbourhoods close to where the vehicles are located, that don't own a vehicle already, or have a vehicle and need a second for a growing family. We have young folks, older folks."
The program has 70 members, but organizers expect that number to triple over the span of two years. More solar-powered vehicles will be added to the fleet.
Usage fees start at $10 every month, plus 25 cents per kilometre, and $6 an hour. Participants can book a vehicle online, any day of the week, depending on availability.
"The program will run about two years and our expectation is that after those two years, the vehicles and charging stations will continue to be around," said Brady.
"In that short term we'll be able to get lots of good, hard data."