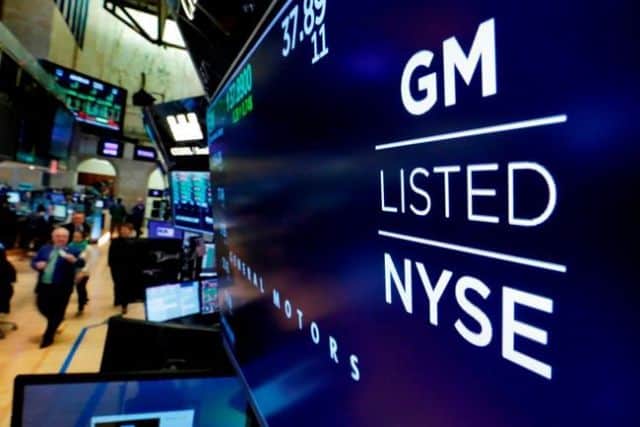 As General Motors reported a healthy $2.5 billion third-quarter profit, the Detroit automaker ramped up its cost-cutting efforts by offering buyouts to 18,000 white-collar workers.
The company, while acknowledging it's in good shape now, said Wednesday it needs to be smaller to prepare for tougher times that might be ahead as it continues to get ready for a future of electric and autonomous vehicles.
"Even with the progress we've made, we are taking proactive steps to get ahead of the curve by accelerating our efforts to address overall business performance," GM said in a statement. "We are doing this while our company and economy are strong."
The earnings and buyout news drove GM shares higher in Wednesday afternoon trading. The stock was up 8.6 per cent to $36.43, after mostly falling since June.
Buyout offers were made Wednesday to salaried workers in North America with 12 or more years of service. GM spokesman Patrick Morrissey wouldn't say whether the company has a target number for employee reductions, nor would he say if there will be layoffs if too few employees take the buyouts.
"We will evaluate the need to implement after we see the results of the voluntary program and other cost reduction efforts," he said.
Workers have until Nov. 19 to make a decision, and they would leave the company by the end of the year, GM said. The company has 50,000 salaried workers in North America.
The offers came as GM's earnings surprised Wall Street by riding strong prices for much of its model lineup across the globe, especially in the U.S. where it rolled out redesigned versions of its Chevrolet Silverado and GMC Sierra pickups.
"Our discipline came through this quarter," Chief Financial Officer Dhivya Suryadevara said, adding that she believes strong prices are sustainable as GM builds inventory of light-duty pickups and rolls out heavy-duty versions.
The average sale price of a GM vehicle in the U.S. reached $36,000, $800 more than a year ago and a third-quarter record.
Even as auto sales started to ebb in the U.S., China and elsewhere, GM said it earned $1.75 per share. Excluding one-time items, the company made $1.87, far exceeding analyst projections of $1.25 per share, according to a survey by FactSet.
Revenue jumped 6.4 per cent to $35.8 billion, also topping forecasts. The company was resilient in a declining Chinese market, where it posted record third-quarter income of $500 million from July through September. And its pretax profit in North America, its most lucrative market, rose 33 per cent to $2.8 billion with a profit margin of 10.2 per cent.
GM also gave a more optimistic forecast for the full year, saying it expects pretax profits at the high end of its previous guidance of $5.80 to $6.20 per share as it rolls out the new pickups and does its best to battle higher commodity costs.
GM's global retail sales to individuals, on the other hand, dropped 15 per cent during the quarter, to 1.98 million vehicles. But sales to dealers, the point at which GM books revenue, rose 4.5 per cent, to 1.13 million.