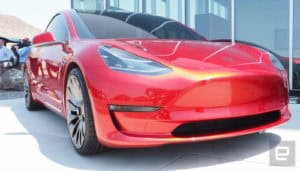 At last, you no longer need a reservation to order a Model 3 — if you meet the right conditions. Tesla has opened its ordering system for the 'starter' EV to everyone in North America, letting anyone walk through the process whether they're ready to buy or just curious. Don't expect to buy the exact configuration you were looking for, though. While the worst of Tesla's production problems may be over, it's not yet ready to sell the $35,000 car it promised long ago.
You currently have to buy a car with the long-range battery and premium interior, pushing the minimum price up to $49,000 before tax breaks. Just about everything else is up to you, however, including the choice of rear- or all-wheel drive, the Performance option, styling and Autopilot.
Reservation holders still get first dibs, as Electrek observed, so you'll still be waiting a while if you make your move. Tesla estimates deliveries within three to five months as we write this, and the wait could get longer if enough people jump in. With that said, the very fact that Tesla is willing to make regular orders available shows just how far its Model 3 output has come in the space of the past several months.
This article originally appeared on Engadget.