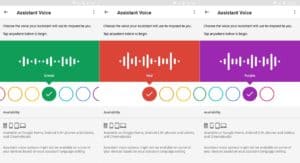 Now that Google Assistant has a slew of voices to choose from, shouldn't you have an easy interface for picking one of those voices? You do now. Google is rolling out an update that gives US users a new, simple interface for changing Assistant's voice. It's very colorful, to put it mildly: you just tap on a color associated with a given voice (Google told us it chose them at random) and listen to be sure they're the dulcet tones you want to hear.
The addition should be platform-agnostic and will be widely available in the US by the end of the week. It's not certain when other countries will receive the fresh interface, but that's also dependent on having multi-voice support in the first place. If you live in a region where you only have one voice to choose from, you'll just have to be patient.
This article originally appeared on Engadget.