NWT SPCA has been performing surgeries on animals in its kitchen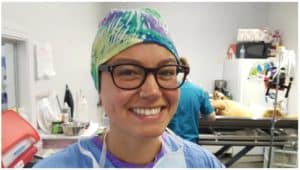 The NWT SPCA won't have to do surgeries in a kitchen anymore, thanks to a recent $15,000 grant.
The Yellowknife non-profit received the boost in funding from PetSmart Charities of Canada. It means the SPCA can finally turn a dog bay into a proper operating suite.
"[Staff] won't have to be waiting for us to be done surgeries before they can microwave their lunch," said NWT SPCA veterinarian Michelle Tuma.
Since September 2017, the shelter has been using a makeshift operating suite in its kitchen. And while the set up works, it's not always ideal.
"It's also going to give us an area where we can be away from all the hustle and bustle of the shelter," Tuma said.
She said sometimes during surgery people will come into the SPCA and try to ask them questions while they're in the middle of a surgery.
Tuma said the team is making the kitchen work, but it will be nice to have a designated operating suite.
"We're also going to get little things that will help around the clinic as well, such as a surgical light," she said.
"We use an emergency roadside assistance light on an IV pole as our surgical light."
They will also use the money to get an ultrasound machine. A large portion of the money will be used to do the electrical wiring to the dog bay, where the surgical suite will be located.
A spokesperson for PetSmart Charities of Canada said it chose the NWT SPCA because it does a lot with very little.
"[They're] serving a large community with not many resources, and they're doing a fabulous job," said Dani LaGiglia, the regional relationship manager for the organization.
LaGiglia said they were impressed the SPCA was serving communities all over the N.W.T.
LaGiglia said the organization wants to provide more funding to northern, rural communities.
The NWT SPCA doesn't have a timeline for when the surgical suite will be ready, but it's going to start on renovations this summer.