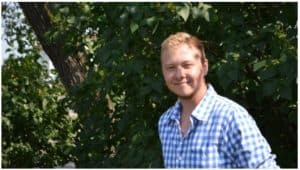 A local advocate for trans people has won this year's Leadership Thunder Bay Acknowledging Community Engagement Award.
Aiden Kivisto volunteers at Elevate NWO and does workshops in the community on trans issues.
He was valedictorian of last year's Leadership Thunder Bay graduating class, and he credits the program with giving him the confidence to start a new business, he said.
Kivisto recently launched a consulting company offering education on LGBTQ topics.
"I am actually really quite honoured," he said of receiving the award.
"I know that this award is voted on and chosen by the alumni, and so it just kind of goes to show the work that I do is noticed — and not to say that I do it to get noticed, but it is really appreciated when I've got people that I look up to that can recognize that something good is going on in the community."
Kivisto is the former vice chair of the board of the Children's Centre Thunder Bay.
He presently works as a commercial and residential painter, and he will be starting an honours bachelors degree in social work at Lakehead University this fall.