Donation will go towards Saskatchewan Junior Hockey League assistance fund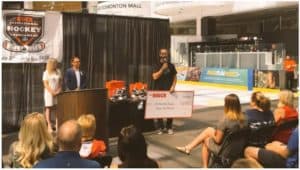 The Brick Invitational Hockey tournament kicked off its 29th year with a $25,000 cheque presentation for the players, families and billets affected by the Humboldt Broncos bus crash.
Tournament chairman Craig Styles presented the cheque to Chris Joseph, who accepted it on behalf of the Saskatchewan Junior Hockey League assistance program.
"I don't know if everybody realizes how much collateral issues there are once a tragedy like this happens," said Styles.
"There's friends and there's teammates that are having trouble coping and that's what this money will go towards."
Joseph's son Jaxon was one of 16 people who died in the crash on April 6 when the team bus collided with a semi-trailer about 30 kilometres north of Tisdale, Sask. Another 13 people were injured in the collision.
Joseph said that nearly three months after the crash, the support continues to pour in.
"This accident on April 6 affected the entire hockey world and even beyond that," said Joseph.
"It's much needed, it will go to a good place and it will get used.
The 14 teams playing in the Brick Invitational tournament will also have Humboldt stickers on their helmets, the coaches will be wearing green and yellow pins on their lapels to remember the victims of the crash.
The tournament has also created a Adam Herold memorial fund, in memory of the youngest player to die in the Humboldt bus crash.
The 16-year-old was a Brick Invitational alumnus, having played in the tournament in 2011.
"He was a wonderful human being," said Styles. "He was a great player in our tournament and it's something we all wanted to get behind."
The $2500 scholarship will be awarded to a graduate of the Saskatchewan Junior Hockey League to pursue academic studies.
"I really believe the hockey family is an amazing group, " Joseph said.