'I did it, I got my certificate and I graduated'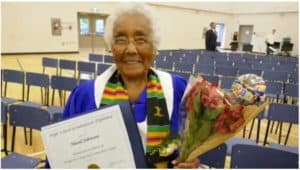 After more than eight decades, a 99-year-old Bridgetown, N.S., matriarch got to cross off the only regret of her life on Thursday when she received an honorary high school diploma.
It has been 84 years since Hazel Johnson, who was at the top of her class, had to drop out of high school because her family couldn't afford to pay for textbooks.
At the first graduation ceremony for the new Bridgetown Regional Community School, Johnson got to cross the stage.
She was the first to receive a diploma among 52 students dressed in blue satin gowns. Many of the school's students know her as Nan.
"I did it, I got my certificate and I graduated … then I told the graduating class to just keep on going and do the best you can," Johnson said.
Standing in front of her fellow graduates, family and friends, Johnson was recognized by the school for a lifetime of learning.
"Nan has lived a very full life, and with the help of Bridgetown school staff, she was able to cross a big regret off her list," said Matthew Johnson, Hazel's grandson.
As Hazel Johnson was handed her diploma, those attending the ceremony in the high school gymnasium rose to their feet to applaud her.
"It was a day to recognize that she's been a big part of the community — she's taken learning as not necessarily something that's always in the classroom," said Matthew Johnson, a development officer in aerospace and defence.
Hazel Johnson was welcomed to the ceremony by Peter Cromwell, her nephew. He is the former African Nova Scotian representative for the Annapolis Valley Regional School Board, which has been replaced by the Annapolis Valley Regional Centre for Education.
He spoke about how fitting it was for Hazel Johnson, the sister of Order of Nova Scotia recipient Edith Cromwell, to be the first graduate of the new school.
The school sits on Cromwell Court, a street named after the late Edith Cromwell.
"I was a little nervous at first, thinking about it the night before, but it wasn't that tough, it was just lovely," said Hazel Johnson.
'I cried when I couldn't finish'
On Hazel's 90th birthday Matthew Johnson asked his grandmother if she regretted anything in her life. She told him her regret was not graduating from high school.
Hazel Johnson grew up in Upper Granville, N.S., and attended high school in Bridgetown during the 1930s.
She was an excellent student. She loved to learn.
"Growing up I always made sure I did well in school, I don't know why, I just did," she said.
When she entered Grade 11, the school switched to new textbooks.
Being one of 10 children in the family, she was informed by her father that she would have to quit because he could not afford the books.
"I cried when I couldn't finish," she said.
Lifelong learning
Leaving school didn't stop her from learning, say friends and family.
She lived in Germany in the late 1950s with her husband, who was in the Canadian military. She used the time to study German.
Upon returning to Canada in 1962, she continued to learn.
From computer courses to seamstress certificates, Matthew Johnson said his grandmother always jumped at any opportunity to learn.
"She has a ton of wisdom — it's not her getting a diploma, but it's her getting recognized for the fact that, you know what, she's always been a student and she continues to learn all the time," he said.
Like her sister Edith Cromwell, Hazel Johnson kept acquiring skills and knowledge.
She taught Sunday school for 35 years in both Canada and Germany, while using her seamstress diploma to teach sewing.
A long journey to graduation
Once Matthew Johnson knew of his grandmother's story, he began a nine-year inquiry into whether something could be done.
"I was told nothing like this has ever been done and that there was no formal process to give her a diploma," he said.
It all changed last fall when he approached Matthew Marshall, his friend from high school. Marshall teaches at Bridgetown Regional.
Marshall received permission from Bill Reid, the school's principal, to grant the honorary diploma. Reid believes the story provides the graduating class with important lessons.
"Two things — lifelong learning and resilience," he said.
The Annapolis Valley Regional Centre for Education has no policy on awarding honorary diplomas.
Although not an official diploma, Matthew Johnson believes the honour bestowed on his grandmother has wide significance.
"We can go to university and get all the degrees to hang on our wall, but there's a lot of life lessons that seniors could teach us," he said. "We should probably sit down and talk to them more often."