'It's just a testament of the City of Calgary itself,' says Andy Strangemann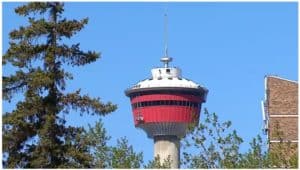 The site of many family birthdays, graduation celebrations and proposals is having its own party on Saturday. The iconic Calgary Tower is turning 50.
Completed in 1968, the tower soared above all other buildings in the city back then.
Indeed, developers publicly underestimated its height until it opened, revealing it was 190.8 metres (626 feet) only after it was guaranteed it would be the tallest, at least for a while, in Western Canada.
It's no longer the city's tallest structure but continues to occupy a key place in the memory of many Calgarians.
"When you think of Calgary, the first thing that does come to mind is Calgary Tower," said Jay Dhanjal, showing the favourite landmark to visiting friends from Kuwait, New York and India.
"It still holds its character, so even if it's hidden between all the high-rises in about 20 years, I think it'll still be the place to take people."
Construction on the tower began in February 1967 and officially opened under the name Husky Tower on June 28, 1968. It was renamed Calgary Tower in 1971.
On Saturday, there will be a celebration to mark the 50th anniversary, including the screening of a documentary telling the building's history through the eyes of people who were there. Some members of the original construction crew will attend.
The event, which features a 1960s drive-in theme, is open to the public with free ice cream and a photo booth.
Jennifer James wrote to the Calgary Eyeopener this week to say she clearly remembers the tower opening. She was in her last semester of Grade 11 when her father suffered a massive stroke.
While he was recovering, he made it his goal to become well enough to take his family to the revolving tower restaurant.
"After many months of therapy and having to learn to walk again, he did, indeed, take us all for dinner," James wrote. "It was a memorable night of celebration for my family."
The theme of inspiration and pride manifested in big ways, according to longtime industry watcher Richard White, who has served on the Calgary Planning Commission and as the executive director of the Calgary Downtown Association.
The tower, built for Husky Oil's head office and for Canada's centennial, took Calgary from a frontier city to a modern, contemporary urban centre, he said.
"It was a bit out there for its time," White said. "It was really a leap in Calgary's understanding of what a city could be, and what design and architecture can do to create a sense of pride."
The building is still architecturally significant, he argues, and its "Jetson or space age-type look" fits well with the city's now-contemporary office and condo towers.
After the construction of the tower, Calgary moved into international markets with its oil-and-gas sector and rapidly grew, starting to fit the message the tower foreshadowed, he said.
And the tower continues to take its place in the modern city, said Calgarian Andy Strangemann, who once rappelled down it for charity.
He said he enjoys the lights on the tower, which sometimes are used to reflect celebration or solidarity, like during the Paris attacks.
"It's just a testament of the City of Calgary itself," he said. "I'm quite happy that it's still present in the Calgary skyline."
That skyline has graced the background of many photos. The revolving restaurant and observation deck glass floor are attractions for visitors and locals alike.
For Suzzanne Jalsoviczky, it proved to be a unique and elaborate venue to receive a proposal.
On her birthday in 1995, her boyfriend took her and a friend for an early dinner at the tower restaurant. They noticed a small plane circling. It was pulling a banner that read, "Happy birthday Suzzanne L — Will you marry me?"
"My now-husband is still proud of how he pulled off this special proposal. We will be celebrating our 22nd anniversary this September," she wrote to the Eyeopener. "I'm going to suggest dinner at the Calgary Tower."
If you'd like to visit the tower, the birthday bash on Saturday is family-friendly with half-price admission all day.