Stirling Hart out-chopped, out-sawed and out-sprinted all comers at the Stihl Timbersports Champions Trophy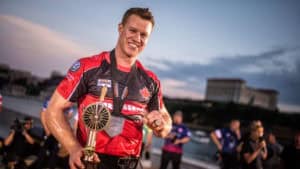 B.C.'s best axe man is finally a world champion, although, on the phone, lumberjack Stirlng Hart sounds more relieved than elated with his big win.
"It feels a lot better than second place, I'll tell you that," said the 28-year-old Maple Ridge native.
Hart out-chopped, out-sawed and out-sprinted all comers at the gruelling Stihl Timbersports Champions Trophy in Marseille, France, over the weekend, handily beating hulking New Zealander Jason Wynyard in the gold medal final.
The victory was sweet, but it was also redemption for losing by half a second in last year's final and finishing fourth the year before.
"I've always been right there and to finally get over that hurdle is a good feeling," he said.
Timbersports isn't a sports page fixture, but Hart hopes his win will attract a little media attention in Canada.
The sport couldn't ask for a better spokesman.
About that scar
Hart is a third generation lumberjack (his father and grandfather both competed) with a gift of the gab and an instantly identifiable 12 cm scar across his right cheek.
The scar is a subject of intrigue, especially on first viewing, when onlookers can't help imagining the awful accident that left the mark.
The actual story isn't nearly so dramatic.
During a competition several years ago, Hart planted his axe in a tree, only to have it fall out and graze him in the face. The bloody mess that resulted (his axes are very sharp) required more than 80 stitches both inside and outside his cheek.
At first he was grateful not to lose an eye. Over time, he's become grateful for the scar itself.
"I love it," he said. "It's become my defining feature, because when I go places I'm instantly recognizable."
"It's been very good for marketing actually."
Normally, you'd be able to catch Hart performing in the Grouse Mountain Lumberjack Show where he's been a fixture for 13 years. However, life among the trees has now taken him in a new direction.
Go climb a tree
Last year the certified arbourist and tree faller launched Alpine Acceleration, a company that thins forests for growth and for forest fire protection.
That means this summer he'll have to balance contracts in Whistler with his training, coaching and competition schedule.
And while he may feel a pang of envy over international rivals who are able to make timbersports a full time job, Hart says climbing and cutting down trees in Whistler might actually be the secret to his success.
"It's essentially what won me the world championships — my conditioning," he said. "Turns out it was the best training I could have done."