34 organizations across the province received up to $50K for recreation and employment opportunities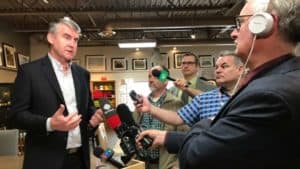 The province announced $1.2 million in grants on Wednesday for day programming for Nova Scotians with disabilities — and it promises more money for next year.
Premier Stephen McNeil said at a press conference that grants of up to $50,000 each were given to 34 organizations that create accessible recreation and employment across the province.
One of those organizations is LakeCity Woodworkers in Dartmouth, N.S., a non-profit that provides employment for about 50 people with mental illness.
Executive director Liam O'Rourke said they'll be using the money to expand their workshop, hire 25 more people and create more opportunities for the clients at LakeCity.​
"It spurred this innovative thinking at the organization. Just having the opportunity to have access to $50,000 to make changes within the organization is significant," O'Rourke said.
"Once I wrote the grant, I was incredibly anxious to get the money so we could actually make those changes. And hearing today that there's going to be additional funding coming out next year, I know exactly what we want to do. It's exciting," he said, adding they plan to use next year's money for a rooftop garden.
McNeil said while the grants are for one-time projects, the money will be available next year as well.
"It'll go through the budget process, but I think the organizations can feel pretty confident that the amount that was there this year will be there next year," he said.
The organizations are using the funding for projects ranging from laser engraving to gardening, to "enhance what's important to their organization," McNeil said.
McNeil toured the LakeCity showroom on Wednesday, praising the "tremendous craftsmanship."
"We have embarked as a government over the last number of years to ensure that people with physical challenges or disabilities see themselves reflected in the work we do," he told the crowd.
"There's been a tremendous move by so many citizens to ensure that more Nova Scotians were able to see themselves reflected in their own communities."