Women in Wood group hosts 'fireside chat and networking' event at annual OPFA meeting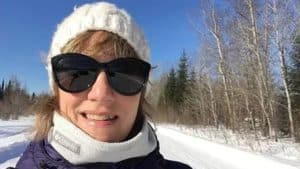 As foresters — and those who work in the industry — gather in Timmins for an annual meeting, women in that sector will also take time to compare notes.
The annual Ontario Professional Foresters Association's annual conference is underway. On Tuesday night, a Women in Wood networking event will take place.
The group was founded a few years ago by two women working in forestry.
"Forestry has traditionally been a male-dominated sector," Jennifer Tallman, a member of the group, said.
She's the first-ever female chief forester for Eacom Timber.
Tallman says Women in Wood is a community for women in the forestry sector and works to encourage more women to get into the field and help those in the field achieve their career goals.
"We're managing forests that belong to the public. They're Crown forests, there is a lot of stakeholders involved and want to have their say," she said.
"I think that's where we as women have the skills to work collaboratively and listen to all the viewpoints."
Building 'a level of trust'
Tallman says there is a lot of opportunity in the forestry industry right now.
"While we haven't assumed our fair share of the industry, women now outnumber the men in forestry school today," she wrote in a recent blog entry on womeninwood.ca.
"It is encouraging to see more women in forestry and in an expanding variety of related disciplines (forest technicians, biologists, ecologists, GIS, public education and outreach, etc.). Not only are there more women entering the industry, they are working together, offering advice, encouraging and supporting each other along the way."
When Tallman graduated from Lakehead University in 1992, there were six women in a class of about 30 students.
She later moved to Cochrane for a job with the Ministry of Natural Resources and Forestry as a forester-in-training — and she's never left northeastern Ontario since.
Tallman notes that her advantage was the ability to work with others (mostly men) in a way to discuss possibilities, listening to and validating their ideas.
"It built a level of trust," she wrote.
"With time, you build a reputation. In the summer of 2017, EACOM's senior management sat with me and asked me about my aspirations for the company. I indicated then that I eventually wanted to become Chief Forester … When you want something, go for it. Shortly after, my predecessor announced his retirement and I was immediately appointed to the role."
Tallman points out that she "was appointed for my ideas, not hindered or advantaged by my gender."
Tonight's Women in Wood Fireside Chat and Networking event in Timmins will also feature Faye Johnson, director of forest tenure and economics branch of the MNRF, and Beth MacNeil, assistant deputy minister of Canadian Forest Service.