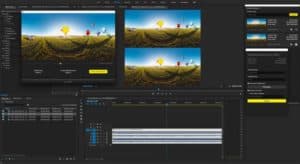 Insta360's more affordable 8K VR camera was made available for pre-orders in 2017, with a major software update in December of that same year that kicked the high-end 360-degree camera's image processing up a notch. The camera got a stamp of approval from Google last year, too, which gives you the power to contribute to the tech giant's Street View mapping with the device. Now Adobe just made editing 360 video captured with the Insta360 Pro much easier with a new plugin for Adobe Premiere Pro CC.
360 video typically needs to be stitched together before and after editing, making for a pretty tedious process. Now, if you've got an Insta360 Pro camera and a copy of Premiere, you can start editing right after import – no pre-editing stitching required. The plug-in that allows this basically creates proxy footage, a quick-stitched, lower-resolution substitute that you can edit just like regular source footage. This makes for a much quicker start to the editing workflow, and will help ameliorate any chugging your processor might do when editing 8K video. When you're all done editing, Premiere will stitch together only the video you used in your project, further reducing the time to export.
This article originally appeared on Engadget.