The volunteers will focus on Toronto's parks, streets and sidewalks during the two day event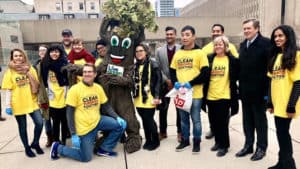 After a week of snow and ice, a small army of Torontonians is getting set to take on the city's biggest spring cleaning job.
This weekend, as many as 200,000 people are scheduled to take part in Clean Toronto Together, the 15th annual city-wide cleanup of public spaces.
Over two days, they'll collect litter and spiff up parks, streets and sidewalks — collecting as much as 30 tonnes of garbage in the process.
In other words, that's more than 66,000 pounds of Toronto trash.
"In terms of how our public spaces look, that makes a very big, visible difference," said Mark Singh, a program manager at the city's environment and energy division.
The public cleanup coincides with the city's own spring thaw cleanup, though Singh said the extra help will transform the city in a much more dramatic fashion.
"As hard as we try and as many resources as we put into it, city staff can't get to everything," he said.
A total of 185,000 people have registered for the event, though the city expects the final participation tally to climb higher by the end of Sunday.
"Last year we had 196,000 so we're hoping to hit 200,000 this year," Singh said.