Author credits value of book lies in its photography and context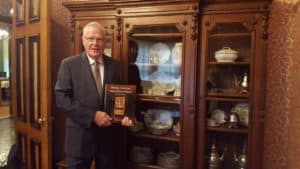 Jim Macnutt says his book Historic Furniture of Prince Edward Island not only brings back memories for some Islanders, it tells them more about what they're seeing.
He believes that added context, along with the beautiful photos, is a big reason it recently received the Canadian Museums Association 2018 Award of Outstanding Achievement.
"So often I'm getting a response that … 'I remember seeing that particular type of furniture in my grandmother's house and now I know what that was, when it was built and I know where it went in the house,'" he said on CBC's Mainstreet P.E.I.
Macnutt said he was 'shocked and highly gratified" when he found out the book had won the award, because he said he didn't even know it was nominated.
Valuable contributions
He credited photographer Maurice Roy, Technomedia and David Keenlyside, executive director of P.E.I. Museum and Heritage Foundation, for their valuable contributions to the book.
And, of course, the skilled craftsmen on P.E.I. who made the furniture, from the 1780s up to the First World War.
"The educational value of the book is that it not only that it identifies the various styles and periods of furniture, but it also identifies clearly why they were made, for what place in the house they were made and the nature and quality of the actual construction," Macnutt said.
The book was nominated for the 2018 Prince Edward Island Book Awards in the non-fiction category, along with Home Plate, Blue Helmet: From Charlottetown to the Holy Land and Back by Michael Conway, and New London: The Lost Dream by John Cousins.