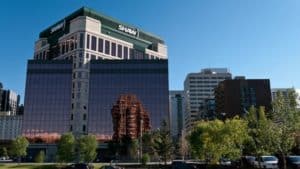 Shaw Communications Inc. (TSX:SJR.B)(NYSE:SJR) recently clocked in a Q2 that blew away expectations with off-the-chart wireless subscriber additions. The stock responded by soaring nearly 10% in a single trading session as Shaw's wireless segment, Freedom Mobile, appears to have hit a parabolic inflection point and income investors are finally starting to take notice. Is the stock still a buy after the upward spike? Or is the remarkable spike in wireless subscribers just a one-off occurrence?
Shaw's disruptive potential to the Canadian wireless scene has been severely downplayed
In my last piece about Shaw, I noted that Shaw's aggressive "upgrade and poach" wireless growth strategy would allow the company to meet its long-term goal of obtaining ~25% share of the Canadian wireless market much sooner than many analysts had anticipated.
Given the trajectory of Shaw stock at the time, it's clear that the public is taking management's ambitious commentary on wireless growth with a grain of salt. The typical management team is usually overly bullish when it comes to forward projections; however, in the case of Shaw, I think they're very well-positioned to surprise, as Freedom Mobile's wireless growth momentum is poised to continue moving forward.
It's not just Shaw's incredibly focused management team, but also the cartel-like nature of the Canadian telecom scene that will allow Freedom Mobile to easily "poach" subscribers away from the Big Three incumbent players. Switching costs are low and continued network upgrades will, in time, reduce churn rates for Shaw's wireless subscribers. As such, I believe that Shaw's wireless subscriber base is subject to lower churn rates than that of the Big Three players.
Q2 2018 was a quarter to remember
Shaw clocked in 93,500 postpaid subscribers for the quarter, more than doubling the consensus estimate of 45,000. EBITDA was at $501 million, which is slightly higher than the street consensus of $500 million. Cable numbers were sub-par, but the big story was the outstanding wireless growth numbers that will likely propel Shaw stock substantially higher over the next 12-24 months. Thus, income investors would be very wise to pick up shares today while the dividend is still at ~4.5%, as shares could surge, bringing the yield down to the high 3% levels as investors (and wireless subscribers) make the switch to Shaw.
"As we head into the latter part of 2018, I think the general public will really see Shaw shake up the telecom market, as wireless subscriber growth could surge thanks to aggressive promos and Shaw's commitment to improve its LTE network," I wrote in an article published in March when explaining why Shaw was one of my two top bounce-back dividend stocks to buy before 2019.
I think the ~10% rally in Shaw shares was warranted and could be the start of a sustained rally to much higher levels. The stock is still very cheap after the post-earnings surge, and is still down ~17% from its all-time high. I think more solid quarters with off-the-charts wireless growth numbers can be expected over the next two years, so don't expect this discount to stick around forever.
Bottom line
The Big Three incumbents will begin to the pain from Shaw's gain, however, so retaliatory "limited time offer" plans may again be in the cards for the Big Three to dampen the magnitude of Shaw's wireless growth numbers for any given quarter moving forward.
Over the longer-term, however, I do believe that Shaw has the strongest momentum when it comes to wireless growth. Investors therefore shouldn't hesitate to buy shares after the post-earnings rally, as there are many reasons to believe that more knockout results will be in the cards for future quarters.
Stay hungry. Stay Foolish.