Young skaters surprise Karen Jones as she caps 10 years of coaching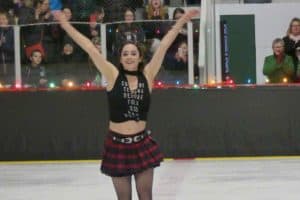 As Kaetlyn Osmond stood centre ice at the arena bearing her name in Marystown on Saturday, a crowd of young skaters watched with aspirations of one day being in the same position.
More than 1,000 people — including the Osmond family — packed into the Kaetlyn Osmond Arena to watch the Ice Crystal figure skating club's show, which featured two performances from the world champion.
Having lived in Alberta for 16 years herself, onlooker Denica Foote knows the feeling of returning home to Marystown after a long stretch on the west coast of the country.
To watch Osmond perform was a "dream come true," Foote said.
"It was amazing. I got to see her practise sometimes at the West Edmonton Mall."
While Osmond dazzled with her two flawless performances, the crowd seemed just as enthused to watch some up-and-coming skaters — some so young they were helped to the ice by older members of the club.
Coach given surprise performance
Karen Jones, who is celebrating 10 years coaching the Ice Crystal club, was surprised with a performance by her pupils.
The group brought a teary-eyed Jones to the centre of the rink and skated around to A Thousand Suns by Hey Rosetta!
"I had no clue they were doing this behind the scenes at all," Jones said after the show, holding a bouquet of flowers in her arms.
"I'm so proud of these skaters from where they were to where they are right now. When I look back, [I] think, gosh, these kids are a reflection of me, my work and my dedication to these skaters."
Jones said she has no doubt there are other budding Osmonds in the group.
Later in the evening, the Town of Marystown announced it will award a $1,000 scholarship annually to a member of the Ice Crystal club in Osmond's name.
As for the world champion and Olympian, Osmond is heading to Conception Bay South on Sunday morning before jetting to Toronto.
She will return next weekend to perform in Corner Brook and Grand Falls-Windsor.