Air Canada flight from Orlando makes emergency landing in Halifax after landing gear problems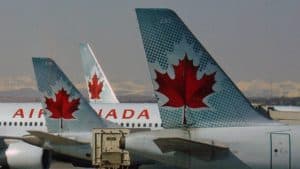 Passengers aboard an Air Canada flight from Orlando, Fla. had a few tense moments Saturday afternoon when their plane developed problems with its landing gear prior to its approach to the Halifax Stanfield International Airport.
Halifax Fire and Emergency Services were called to the airport at 3:33 p.m. after crew members reported the plane's landing gear wasn't descending properly. Air Canada flight 1219 was travelling from Orlando to Halifax.
The aircraft landed on the runway, blowing out two tires, but no injuries were reported.
"It was a nice landing. He did a really nice job landing the plane," said Gordon Barton, who was returning home after a trip to Disney World with his wife Peggy Blair and their grandchildren, Alexis and Kenleigh.
"You wouldn't be able to tell hardly that he had flat tires the way he landed it. He did a great job getting us on the ground."
Air Canada said in a statement that the plane got two flat tires during the landing. A spokesperson said she could not provide further details about damage to the plane.
One of the airport's two runways was closed until about 5 p.m. while the A320 plane was towed to the gate.
Peggy Blair said about 20 minutes into the flight "we heard the big boom."
Her family was sitting over the wheels so it felt "like your feet actually 'boomed' underneath you," she said.
"We really knew it was something, but then the pilot came on and said, 'Well, there's big boxes with luggage in them down there and maybe something came loose and just tipped over,'" Blair said.
But Barton, who has experience working with vehicles, said he had a feeling there was a problem with the aircraft's wheels.
"Just the way it sounded, it sounded like one of the wheels may have jammed a little bit when it was coming up so it was just an educated guess, I guess," he said.
The couple's grandchild, Kenleigh Barton,16, said she felt a little bit nervous during the landing.
"We had to circle around a few things. At one point, we were closer to Truro than Halifax so it felt weird," she said.
Alexis Blair,14, felt the same as her cousin.
"It was scary. I was scared. I was fidgeting with my fidget spinner, it was pretty crazy," she said.
Once it came time to land, Blair said the plane circled around the airport. She said staff were quick to tell passengers they had "some bugs to work out" before landing.
"They had a wheel that wasn't coming down, and I guess just before they landed, it did come down," said Halifax Fire and Emergency Services division commander Greg Hebb.
"I guess there was some damage to the underside of the plane. It was a fairly rough landing."
Halifax airport spokesperson Theresa Rath Spicer said the plane landed safely at 3:45 p.m.
"However, it has to be inspected for potential damage and as a result of that, the aircraft has to be towed from the runway."
Hebb and Rath Spicer said as far they know, there were no injuries among the 143 passengers.