Kelowna-based Flair airlines more than doubling daily flights across Canada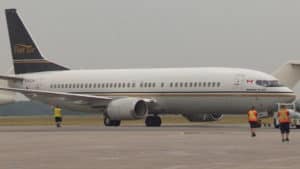 Kelowna-based Flair airlines is expanding its offerings across the country, adding service to Victoria, Prince George, Calgary, Saskatoon and Halifax.
The move more than doubles the airline's flights per week, something consultant Robert Kokonis called "a shot across the bow of WestJet."
The new B.C. offerings include direct flights from Prince George to Vancouver and Edmonton and between Victoria and Edmonton. One-stop service will also be available from Prince George to Toronto, and connecting flights will be available to Winnipeg, Hamilton and Saskatoon.
In Alberta, Calgary will now be connected with direct flights to Vancouver and Winnipeg.
Flair communications manager Julia Rempel said the company has long viewed Prince George as an area for growth.
"Flair has always had their eye on it as a market of opportunity, as well as a market that is under-served," she said.
Billed as the country's only low-cost airline, Flair starts with a base rate for tickets with additional fees for checked and carry-on baggage, as well as priority boarding and other add-ons.
Rempel said it is modelled after European airlines that include a "seat and a seatbelt and a personal item."
The new direct flights begin June 15. In B.C. they are:
Victoria to Edmonton and Edmonton to Victoria daily;
Prince George to Vancouver Thursdays and Saturdays;
Vancouver to Prince George Wednesdays and Sundays;
Prince George to Edmonton Wednesdays and Sundays;
Edmonton to Prince George Thursday and Saturday.
One stop service, which is when a plane lands in another airport but passengers do not have to get off before heading to their final destination will be offered from Prince George to Toronto Wednesday and Sundays with return flights on Thursdays and Saturdays.