1.8M over three years will expand land-based treatment co-ordinated by Shkagamik-Kwe Health Centre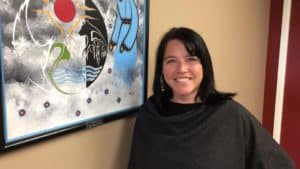 The provincial government is committing $1.8 million to expand and develop culturally-grounded treatment of Indigenous people with mental health and addiction problems in the Sudbury region.
The money funds a proposal submitted by the Shkagamik-Kwe Health Centre in Sudbury.
Executive Director Angela Recollet says the programming is open to anyone in Sudbury who identifies as Indigenous, as well as community members in Henvey Inlet, Magnetewan and Wahnapitae First Nations.
"This is going to approach mental health in a culturally-grounded format. Shkagamik-Kwe Health Centre along with all of our sector partners in the province, there's ten aboriginal health access centres, three aboriginal CHC's, our whole model of care is based on culture as treatment,"
There is an existing Four Directions Wellness Program within Shkagamik-Kwe but it is minimal and they are already overloaded with the demands on the different referrals coming internally and externally with our partners, says Recollet.
With the new money, she says she will be able to hire two social workers, two cultural practitioners, a traditional healer, and a part-time nurse practitioner to deal with more referrals.
She says she has seen a lot of people in dire need of mental wellness treatment from a cultural perspective.
Recollet says in particular there are many urban Indigenous people who are suffering from not knowing or not practising a traditional life.
She says some of those practices include fasting, eating wild game and consuming plant-based medicine and much more.
"So taking them out of the city, bringing them back to the land-based programming, this will help ignite their spirit to having a better life journey," she says.