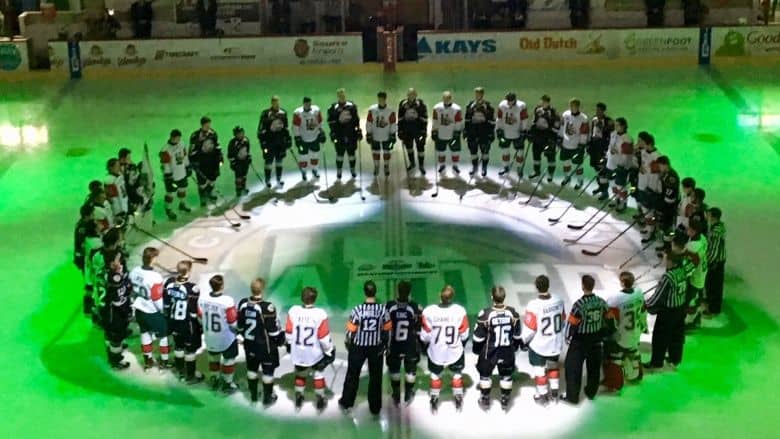 The Charlottetown Islanders raised $5,000 in tribute to the junior hockey team Humboldt Broncos during their second round Quebec Major Junior Hockey League playoffs playoff game against the Halifax Mooseheads Tuesday night.
Fifteen people died when the Humboldt team bus was involved in a collision Friday.
The evening started with a tribute at centre ice, with players from both teams and officials gathering. There was also a fundraising puck drop during the second intermission.
Halifax gives up early lead
During the game itself, the Islanders put themselves in a position to sweep the Mooseheads with a 5-2 win..
The Islanders took the first two games over the Mooseheads in Halifax, and now hold a 3-0 lead in the series.
Halifax struck first in Tuesday's game, taking a 2-0 lead in the first, but giving up their first goal with just 11 seconds to play in the initial period.
As it turned out, all of the Moosehead damage was already done. The Islanders scored three in the second and put an exclamation mark on it with a fifth goal in the closing minutes of the game.
Game 4 is Wednesday night in Charlottetown.