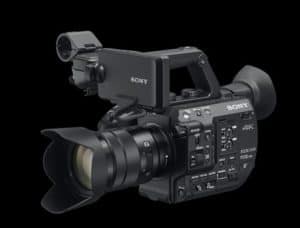 Sony's production-level video cameras just gained three new options designed to marry the detail of 4K with the colors and range of HDR. During the National Association of Broadcasters Show 2018, Sony launched the XDCAM PXW-Z280, PXW-Z190, and FS5 II. The PXW-Z280, Sony says, is the first-ever 4K camcorder with three half-inch chips.
The Sony PXW-Z280 uses three half-inch COMS sensors. The three sensors work together to enhance the camera's light sensitivity, resulting in a better color gradation, Sony says. The video camera can record 4K at 50p or 60p, with a 4:2:2 10-bit format. That sensor trio is paired with a 17x zoom lens.
For broadcast capabilities, Sony integrated the same tech behind the could-based XDCAM Air, with Quality of Service and Dual Link for using two cellular networks. Data transfers for live recording is also possible through Wi-Fi or Ethernet.
Also integrating three sensors, the Sony PXW-Z190 uses smaller 1/3 type sensors that allow the model to both sit at a lower price point an integrate a longer 25x optical zoom lens. Like the Z280, the Z190 records 4K at 50p or 60p and also records 4:2:2 10-bit. Compatibility with Sony's Instant HDR workflow allows for faster color grading, while the video camera also uses the XDCAM Air, but requires purchasing a license for the cloud service.
Both PXW models use an upgraded Advanced Face Detection Autofocus. Sony says the addition of a "Face Only AF" allows the focus to remain on a specific person, even inside of a group. Both cameras also use a built-in electronic neutral density filter, allowing videographers more control over the exposure and depth-of-field.
The new PXW cameras come alongside Sony's second rendition of the Super 35mm FS5. The FS5 II captures cinema 4K (4096 x 2160) in HDR and can even shoot that high resolution as fast as 120 fps (though only for four seconds at that blend of high resolution and high frame rates). RAW format is also included. Sony says the second generation also offers a more refined toning for better highlights and skin tones.
Like the predecessor, the FS5 II is an E-mount video camera with interchangeable lenses and a modular frame that allows the camera to be adapted for different shoots from movies to even a drone mount.
The trio of new cameras comes inside a longer list of broadcast gear, including a new camera control unit, the HDCU-3100, and a new live production switcher, the XVS-9000. The new tech — and some existing tech — will be on display during this week's NAB 2018 show.
The FS5 II will be the first to hit the market with an expected June arrival and a $4,750 body-only price point or $5,250 with a lens. The PXW-Z280 follows in July for $6,950 and the PXW-Z190 in September with pricing expected to be under $4,000.