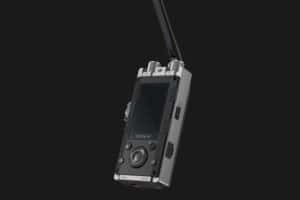 DJI is aiming to help filmmakers master the gimbal with new control units that allow for smooth, custom camera movements. During the National Association of Broadcasters Show on Monday, April 9, DJI announced two new gimbal control systems, one an intuitive entry-level gimbal control solution, the DJI Force Pro, and the other a high-end solution for the most precise control, the DJI Master Wheels.
DJI's Force Pro matches the movement of the operator on the devices different physical and screen-based controls to create smooth camera movements. DJI says that the Force Pro is designed so that even user with minimal gimbal experience can quickly learn how to control the camera using the Force Pro.
The Force Pro uses a built-in compass and Inertial Measurement Unit to create both precise and consistent camera movement. Those two components also help prevent gimbal drift, allowing the camera to remain fixed on a specific frame. The device's dials control pan, roll, and tilt, while the on-screen controls allow for further options, including setting the speed for the movement on each axis. For reliability, the Force Pro has a dual frequency Wi-Fi system, along with a wired option.
While the Force Pro's intuitive design and $1,200 price point may put the camera control system on the wishlist for serious enthusiasts, you're more likely to only see the results of the DJI Master Wheels in a professional film rather than actually getting your hands on the camera control system that costs anywhere from $2,500 to $8,000.
As the name suggests, the Master Wheels gives professional camera operators the most control over the gimbal's movement using control wheels. The modular system can be set up with as many as three wheels to control each axis along with threads to add accessories such as displays. Switches and dials help adjust factors of that motion like direction, speed, dampening, and smoothness.
Like the Force Pro, Master Wheels also uses a dual Wi-Fi at both 2.4 and 5.8 GHz — DJI says this allows the camera control system to respond in near real time, with about 10 milliseconds between the control movement and the gimbal's response.
Both gimbal control systems are compatible with DJI's own Ronin 2 and Ronin-S, along with some third-party gimbals. Pre-orders start on Tuesday, April 10, with the new controls on display during the NAB Show in Las Vegas this week.