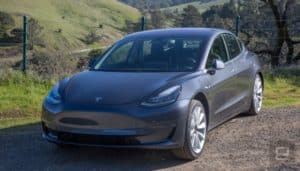 Every Tesla Model 3 rolling off the line has so far been a single motor, rear-wheel drive variant. That's been more than a little frustrating if you've had your heart set on the surefootedness of the dual motor all-wheel drive model. However, you now have a better idea of when you can expect it… and you might not be entirely happy. Elon Musk has informed a pre-order customer that AWD Model 3 production will "probably" start in July. Simply put, he wants manufacturing levels to climb high enough that Tesla can afford to introduce features that "inhibit production ramp" — and while the company is improving, there's still a way to go.
At present, Tesla is making just over 2,000 Model 3 units per week. That's much better than it has been, but Musk wants production to increase to 5,000 cars per week before he's comfortable with AWD. That gives you a hint as to how well things are faring — Tesla originally planned to hit that goal by last December.
The timing gives would-be AWD owners an expectation of when their cars might arrive, though. And Tesla likely has enough orders for its current Model 3 configuration (the RWD edition with a high-capacity battery) that it's not under too much pressure to deliver additional variants. The bigger concern is simply that those who wanted the $35,000 car, the reason the Model 3 exists in the first place, may have to wait even longer to get their EVs.
This article originally appeared on Engadget.