More and more people continue to cut the cord, ditching pay-TV in favor of stand-alone streaming services or other forms of entertainment. The biggest reason for cutting the cord is price. Seventy percent of consumers feel they simply pay too much for the value they receive, according to Deloitte's Digital media trends survey.
One way pay-TV operators can make the price more digestible is through bundling — most commonly bundling video with high-speed internet. Nearly 70% of Comcast (NASDAQ: CMCSA) customers bundle multiple products from the company. AT&T (NYSE: T), meanwhile, added 160,000 video subscribers in the fourth quarter through bundling with its wireless service — practically all of its net additions in video.
Both companies say bundled customers exhibit lower churn rates than those subscribing to a single service. Indeed, 56% of Americans say one of the top three reasons for keeping their pay-TV subscription is the fact that it's bundled with their home internet bill, according to Deloitte's survey.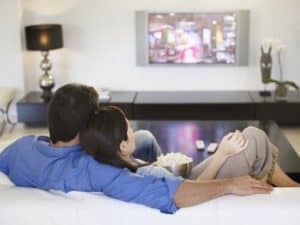 Competitors without a bundle do much worse
As customers leave pay-TV, the industry has seen a significant amount of consolidation. One company, however, remains largely a stand-alone pay-TV provider: Dish Network (NASDAQ: DISH).
Dish has seen its satellite TV subscriber count fall by about 2.2 million over the last two years. Its over-the-top Sling TV offering has helped offset most of those losses, but at a much lower value per customer.
In the same period, AT&T lost 1.3 million subscribers when you don't include DirecTV Now customers. Comcast's subscriber base has managed to stay relatively flat during that period, but it lost 151,000 subscribers last year.
There's clearly some credence to the idea that bundling helps attract and retain customers.
Getting aggressive with bundling
As AT&T and Comcast look to hold onto more video customers, they've gotten more aggressive with their bundling packages.
AT&T notably offers a steep discount on DirecTV Now for customers on its unlimited wireless data plans. It also bundles HBO access with those plans. Management has said it's going to look for more bundling opportunities in 2018.
Comcast hasn't been quite as aggressive, but it introduced its own wireless phone service last summer exclusively for customers that already subscribe to its internet or video service. Xfinity Mobile, as it calls the service, has already racked up 380,000 subscribers. Management said, "We believe Xfinity Mobile is a big opportunity to continue to drive the bundling strategy of the cable business," during the company's fourth-quarter earnings call.
But all this bundling has had a negative impact on margin. AT&T's entertainment group EBITDA margin fell from 22.1 % in the fourth quarter of 2015 to 19.1% in the fourth quarter last year.
Comcast's margin has held up fairly well. Its adjusted EBITDA margin has been relatively stable over the last two years, but the percentage of customers bundling services has also declined, and it's done a better job holding onto video customers. Still, investors should expect Xfinity Mobile to hurt profit margin going forward. It already had a negative $480 million impact on EBITDA in 2017, and management expects that loss to climb higher in 2018.
As bundling becomes more integral to pay-TV operators like AT&T and Comcast, investors should expect to see pressure on profit margin. Still, it beats the alternative of losing customers altogether like Dish Network.