Acoustic recordings of a sperm whale were previously captured in 1984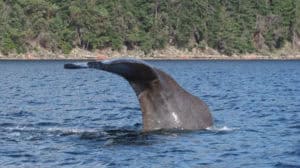 A rare sperm whale sighting in inshore waters was captured on camera off of Nanaimo, B.C., on Wednesday around noon.
Jessica Torode with the B.C. Cetacean Sightings Network said the sperm whale, nicknamed "Yukusam," was spotted and photographed by three researchers with the Pacific Biological Station.
Yukusam, a young male, was previously spotted in February in the Johnstone Strait, along the northeast coast of Vancouver Island.
Prior to that, there had only been an acoustic detection of a sperm whale, also in Johnstone Strait, in 1984.
Torode said the sighting is "pretty much an anomaly" and "extremely rare."
"It's unclear to why he's here. He could just be searching out a new region, looking for fish in this area. Normally, they're found quite far offshore, usually off the continental slope, so you won't really see them," she said.
According to the Ocean Wise Marine Mammal Research Program, sperm whales are vulnerable to vessel strikes due to their tendency to rest on the surface of the water for long periods of time.
Their long underwater dives also make it difficult to predict where they might surface.
Torode said sperm whales can be identified by their "large boxy square head, brownish grey tinged colour and wrinkly skin like a prune."
The whales, which can measure up to 13 metres in length, also have a dorsal fin shaped like a rounded bump. One of their most distinguishable features in their blow — or breath —which is angled forward and to the left.