Waymo, the self-driving subsidiary of Alphabet (NASDAQ: GOOG) (NASDAQ: GOOGL), announced that it will begin rolling out a new autonomous ride-hailing service in U.S. cities later this year — and its riders will be able to select a self-driving version of Jaguar's new electric I-Pace.
At a press conference in New York on Tuesday, Waymo CEO John Krafcik and Jaguar Land Rover CEO Ralf Speth outlined a "long-term partnership" between their companies, under which Jaguar will supply Waymo's new service with "up to 20,000" I-Paces over the next two years.
These announcements have huge implications, not just for the two companies involved, but for rivals like General Motors (NYSE: GM), Tesla (NASDAQ: TSLA), and Uber Technologies as well. Here's what I learned at the press conference, and a few first thoughts about what it might mean for some of the other companies sprinting toward the self-driving finish line.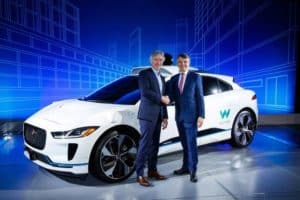 Launching this year: Automated ride-hailing from Waymo
Although they were folded into one presentation, Krafcik really made two separate big announcements on behalf of Waymo:
Waymo will begin rolling out a commercial self-driving ride-hailing service in U.S. cities this year;
A self-driving version of Jaguar's new electric I-Pace will be one of the vehicles available to customers of that service.
Details around the first point are still fuzzy. Krafcik didn't give a timeline for the rollout of Waymo's commercial ride-hailing service, except to say that it will begin this year in Phoenix. He said that it will expand to other U.S. cities in time, though he declined to say which cities were in line to follow the Phoenix rollout.
But he was willing to say quite a bit about the Waymo-ized Jaguar I-Pace:
This is a production-ready vehicle with self-driving technology that's ready today. These vehicles will start testing this year and will become part of Waymo's driverless transportation service.

With this partnership, we can add up to 20,000 I-Paces to Waymo's fleet in the first two years of production. To put that into some perspective for you, those 20,000 self-driving vehicles can serve about a million trips in a single day.
If Waymo buys all 20,000, that's a lot of I-Paces
Jaguar revealed the production version of the I-Pace last month. It's a fully electric midsize crossover SUV with dual motors and a 90 kilowatt-hour battery pack. It's not quite a direct Tesla challenger — it's somewhat smaller than a Model X — but it's clearly aimed at the same kinds of customers.
Tesla has shown that there are quite a few well-heeled customers willing to buy a good electric vehicle, and early indications have been that demand for the I-Pace is likely to be quite strong. But if Waymo takes all 20,000 I-Paces, that will likely represent a big slice of Jaguar's total production over the next two years. My guess is that with production lines running flat-out, Jaguar will be able to build a total of something like 50,000 I-Paces between now and the end of 2019.
These vehicles won't be cheap. For retail buyers of the non-self-driving version, the I-Pace will start at $69,500 (before government incentives) when it goes on sale in the U.S. later this year. (Given the constraints on supply and the early indications of demand, I have to wonder whether Jaguar is giving Waymo much of a discount.)
Waymo's electric Jaguars will join, not replace, its existing fleet of Chrysler Pacifica minivans. Image source: Fiat Chrysler Automobiles.
The I-Pace won't be the only Waymo vehicle
Krafcik didn't give a lot of detail on Waymo's upcoming offering. But it's clear that these new self-driving I-Paces will co-exist alongside Waymo's Chrysler Pacifica Hybrid minivans, rather than replace them.
When people use Waymo's service, they'll have access to a broad selection of vehicles tailored to their trip. They can choose a minivan if they're traveling to soccer practice with the family — or if two people are running a quick errand, why not take a self-driving Jaguar? [Emphasis added.]
Translation: Jaguar is joining, not replacing, Fiat Chrysler Automobiles (NYSE: FCAU) on Waymo's special-friends list. There may still be room for other automakers to join as well.
What it means for Jaguar
Jaguar Land Rover has thrived as a subsidiary of Indian automaker Tata Motors (NYSE: TTM). But as a smallish manufacturer, it hasn't had the resources to invest in a full-blown self-driving development program of its own.
That had the potential to become a problem in a few years. It has long seemed likely that self-driving capabilities will come to the retail automotive market in luxury vehicles at first. That's the usual vector for new technologies: Luxury vehicles sell in relatively small numbers and at high prices; and luxury-brand customers are typically willing to pay higher prices than mass-market customers for new technologies.
For Jaguar (and Land Rover), which can't really match the resources being thrown at autonomous-vehicle research and development by companies like Mercedes-Benz parent Daimler, BMW, and Audi (not to mention Audi parent Volkswagen AG), the most realistic option has been to wait for an upcoming off-the-shelf system from a supplier like Aptiv. That would get Jaguar in the game, but at a cost: a perceived gap in technical sophistication versus the German brands, in a market where technical sophistication has become an important selling point.
By teaming with Waymo, Jaguar closes that gap (at least to some extent) in public perception. While it isn't yet clear whether Jaguar will be able to (or will want to) offer I-Paces equipped with Waymo technology for sale to retail customers, there will be other advantages to the association. For starters, it'll give lots of people the first-hand experience of riding in a Jaguar — an electric Jaguar, no less — and those riders might end up buying a fair number of I-Paces.
What Waymo gets out of the deal
This is simple: Waymo gets a technically advanced premium electric vehicle for its fleet, from an automaker that can build reliable vehicles at scale and isn't trying to compete with it on self-driving. Nothing bad about that.
What it means for Tesla
"I'd like to introduce to you all the world's first premium electric fully self-driving car," said Krafcik, right before the curtains opened to reveal the Waymo-ized I-Pace.
That sure sounds like a dig at Tesla, doesn't it? I was at Waymo's press conference, and my impression was that it sounded that way to many, if not most, of the folks in the room. Tesla has certainly talked a lot about self-driving technology and about potential future "mobility"-related businesses. In fact, it's probably fair to say that those two things are nontrivial parts of Tesla's current Mars-high valuation.
And Tesla just got beat on both, by the most credible self-driving technology developer working in partnership with an automaker that will have no problems with "production hell."
The implication for Tesla isn't good.
What it means for General Motors
GM has said that it will begin rolling out its own autonomous ride-hailing service in 2019. It has also said that it thinks the first company to deploy self-driving vehicles at scale will have a significant first-mover advantage.
As of right now, it looks like GM will be second to market, not first. It also looks like Waymo is piecing together a more complete offering, with a selection of vehicles that may take GM a couple more years beyond 2019 to match.
Will that matter in the long run? It's not clear yet. But I'm quite sure that GM will be doing some deep thinking about these announcements in the next few days.
What it means for Uber Technologies
Waymo is launching a commercial automated ride-hailing service in Phoenix, while Uber was just banned from even testing on public roads in Arizona following a fatal accident that called its technology's safety into question.
Uber's business model depends on a transition to automated vehicles to reach sustainable profitability. But from all appearances, its technology and readiness to deploy are far behind both Waymo and GM — and possibly behind a few other players as well.
Uber needs to figure out a response to this, pronto. That may mean abandoning its own self-driving research effort and entering a partnership with a major automaker.
The takeaway: If you had any doubts about Waymo's leadership, erase them
Waymo, which started life as the Google Self-Driving Cars Project, has been working on its self-driving system longer than just about anyone else. Here in 2018, it's clearly ahead of all rivals (even GM, which has made impressive progress) in both software sophistication and overall readiness to go to market in the ride-hailing space.
GM is probably in second place, but as of right now, it doesn't look like any other company — including Silicon Valley darlings Uber and Tesla — is even in the ballpark.