With the market near historic highs, investors might be wondering if there are any solid growth plays left. The answer is simple: There are always plenty of growth stocks with upside potential if you know where to look.
Today, three of our Motley Fool investors will highlight their favorite growth plays for this market: JD.com (NASDAQ: JD), Booking Holdings (NASDAQ: BKNG), and Mastercard (NYSE: MA).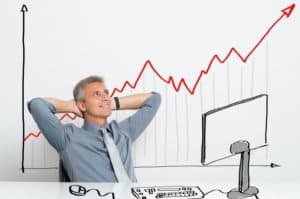 China's second-largest e-commerce company
Leo Sun (JD.com): JD.com is China's second-largest e-commerce company after Alibaba (NYSE: BABA). Between 2014 and 2017, JD.com's share of the Chinese e-commerce market grew from 18% to 33%, according to Analysys International Enfodesk. During the same period, Tmall's shares slid from 55% to 51%.
Market share growth was fueled by four factors. First, JD gained new customers as many smaller business-to-consumer marketplaces collapsed. Second, its biggest investor is Tencent (NASDAQOTH: TCEHY), which owns WeChat, China's most popular messaging app. Tencent's integration of JD's marketplace into WeChat significantly strengthened JD's position against Alibaba.
Third, JD attracted partnerships from a growing list of companies, which want to counter Alibaba's growth, and co-invested in other retailers with Tencent. These moves further widened its moat against Alibaba. Lastly, JD owns and operates its own warehouses and logistics network, while Alibaba mainly relies on third-party merchants and logistics providers. This makes it easier for JD to keep counterfeit products out of its marketplace.
Revenue rose 40% to $55.7 billion in 2017, while its non-GAAP net income jumped 140% to $0.8 billion. It also reported a GAAP profit of $18 million, compared to a net loss in 2016. Analysts expect JD's revenue and non-GAAP earnings to rise 30% and 64% this year. The stock still trades at a reasonable 48 times forward earnings, indicating that it could still have room to run as it ramps up the pressure on Alibaba.
Let this stock take you higher
Dan Caplinger (Booking Holdings): The travel industry proved to be one of the easiest areas for the internet to disrupt, and Booking Holdings has been involved in that transformation from the beginning. Formerly known as Priceline Group, Booking Holdings changed its name to reflect the central role that its Booking.com hotel reservation website plays among its extensive group of websites. Yet you'll also find other key players under its corporate umbrella, including the Priceline, Kayak, and Cheapflights travel sites and the OpenTable reservations specialist.
Even though the company has grown extensively in the past 20 years, Booking Holdings has still been able to sustain impressive growth rates. In its most recent quarter, the company sported revenue and adjusted earnings gains of nearly 20%, led largely by its core hotel booking activity across its platforms. Consolidation within the industry has put a huge portion of the overall online travel business in the hands of just a few different companies, and Booking Holdings hasn't hesitated to make strategic moves where appropriate. With solid economic conditions across most of the globe and rising interest in travel, Booking Holdings has established itself as a key growth leader and is likely to hold on to that role for years to come.
A multibagger stock with solid growth potential
Neha Chamaria (Mastercard): Mastercard's growth in recent years has been phenomenal. A surge in digital payments, driven largely by e-commerce, has pushed the payments processing giant's revenue higher and higher as more and more people across the globe purchase goods and services using the company's co-branded credit and debit cards. Mastercard shares have doubled in just the past three years. In 10 years, the stock has risen sevenfold.
Mastercard is a typical growth company that plows back more money into the business than give away to shareholders. The strategy has paid off handsomely, as is evidenced by its high 30%-plus returns on invested capital in each of the past nine years. Not surprisingly, the stock has soared.
The good news is that Mastercard has tremendous growth potential left as the digital economy expands, especially in populous nations like India that are still primarily cash-driven and where Mastercard has already established a solid presence. Meanwhile, to ensure it stays updated on the technology front, Mastercard is aggressively adopting emerging trends such as artificial intelligence, which should pave the way to a more secure, advanced, and a widely accepted payments network.
Given Mastercard's solid operational and financial standing and the significant growth catalysts ahead, I wouldn't be surprised to see the stock continue to soar in the coming years.