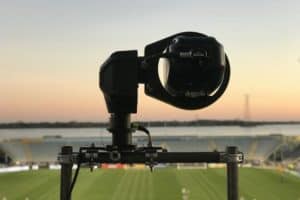 Sports fans, coaches, and trainers could soon have an entirely new view of the game, thanks to a new robotic camera system from Mark Roberts Motion Control (MRMC), a company now owned by camera giant Nikon. Called the Polycam Player, the motorized camera support uses image recognition and artificial intelligence to automatically follow an athlete, keeping the action in the frame without the need for a human camera operator — remote or otherwise.
Interestingly, MRMC says that what differentiates the Polycam Player from other automated systems is how it imitates the movement of a such a human operator. Rather than using a large set of wide angle cameras to capture the full play, the Polycam Player physically follows the player's motion by panning and adjusting both zoom and focus on the fly. The software controlling the cameras is even smart enough to track a specific player or multiple players.
We outmoded humans can rest easy, at least for now: MRMC isn't trying to put us out of a job. The company says the system is designed to capture shots from locations that would be impossible for a person to access. The tool is expected to both give broadcasts a wider range of footage while also serving as a coaching tool for watching game films (or monitoring the competition). The system is launching with four different camera positions for covering football — two high end zone cameras, a high center line camera, and a player-tracking camera. Unlike the others, the player-tracking camera allows an operator to adjust the composition, while the software handles tracking.
MRMC also announced an automated system for keeping up to four people in the frame, including broadcasters and on-set guests. Called Polycam Chat, it goes beyond face recognition to also identify limbs, analyzing both to keep the speaker in frame. MRMC says that this approach leads to "unrivaled accuracy and stability."
The company says Polycam Chat is designed for small studios, using AI to help reduce costs by automating camera control. The automation system is compatible with several different types of cameras, including, of course, DSLRs from parent company Nikon.
The new robotic systems will be on display at the National Association of Broadcasters (NAB) show in April. MRMC will also show off its Color Control Panel, which the company says is the first solution that allows remote, live color correction from a DSLR camera. It is designed specifically for the Nikon D5, allowing broadcasters to integrate the pro DSLR into their workflows.
Nikon acquired MRMC back in 2016 shortly after the two companies, along with Getty, worked on a camera system to cover the Olympic games that year. The latest products keep the company's focus on motion control and broadcast robotics while adding compatibility with some Nikon cameras.