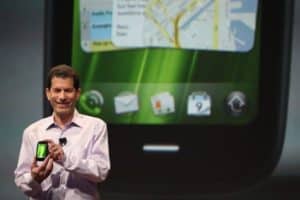 We live in the era of the reboot. Forget movie reboots — we're talking about phone reboots. BlackBerry's still launching phones with hardware keyboards, Nokia is back from the dead, and now we may be treated to a reboot of the Palm.
The report comes from Android Police, which notes that a new Palm device may launch on Verizon in the second half of this year. The rumor, which cites an anonymous source, echoes rumors that were sparked last year when a TCL executive confirmed that the company wanted to launch a Palm device in 2018.
Apart from the fact that a Palm device may launch on Verizon later this year, we don't really know all that much about the project. The report notes that the phone will likely run Android, and we know it will be launched by Chinese brand TCL, which bought the Palm brand in 2015. It will be interesting, though not surprising, to see an Android-powered TCL phone. Not surprising because recent BlackBerry phones have also featured the Android operating system, but interesting because Palm may want to load on some of its own software tweaks.
TCL seems to be building a reputation as the company that revives old smartphone brands, despite otherwise being known for its TVs. TCL is also the company behind the recent BlackBerry revival. While it is popular, the Palm brand doesn't necessarily hold as much weight as BlackBerry or Nokia, so it will be interesting to see how the company can effectively market a new Palm device. Of course, Nokia does seem to have done pretty well for itself so far — the flagship Nokia 8 Sirocco is well-designed and features some pretty nice flagship specs, like the Qualcomm Snapdragon 835 and 6GB of RAM.
It does make sense that Verizon would be the company to carry the newly revived Palm. Verizon intended to carry the Palm Pre 3, a phone that was canceled by HP, Palm's then-buyer, before the phone could be launched in the U.S.
While we don't know all that much about the new Palm just yet, we'll update this article when we find out more.