There's no shortage of social media and messaging companies for tech investors to choose from these days, but it can sometimes be difficult to find the best one to buy and hold for years to come. For investors looking for great social media investments, you may have come across the Japan-based messaging app Line Corporation (NYSE: LN) and wondered if it's better to invest in a small company that's carving out a niche in the social space, or to go with the social media behemoth Facebook (NASDAQ: FB).
Let's take a look at each company's financials, competitive advantages, and valuations to get a sense of how the companies are doing and which looks like the better long-term buy.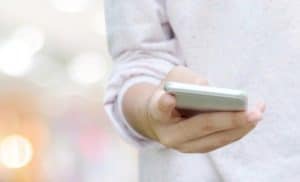 Financial fortitude
In order to make it through difficult times, it's best for companies to have a significant amount of cash on hand and have as little debt as possible. When it comes to both of these financial metrics (as well as strong earnings and high free cash flow), there's hardly any comparison between these two companies.
Company         Cash                    Debt             Net Income (TTM)             Free Cash Flow (TTM)
Facebook        $41.7 billion         $0                      $15.9 billion                     $17.4 billion
Line                    $1.3 billion      $264 million      $76.3 million                      $5.1 billion
Facebook is, of course, a much larger company with more than 2 billion users and one of the biggest online advertising businesses. Line simply can't keep pace with Facebook's huge earnings and huge pile of cash, not to mention that it's debt-free.
Winner: Facebook.
Competitive advantage
Line's key product is the its mobile messaging app and it makes its money primarily from selling ads, but also through its content portal, its Line Pay mobile payment service, Line Music, Line Shopping, and its e-comic book app, Line Manga.
By offering all of those service to its users, Line is trying to build itself into a one-stop shop for everything from messaging to online shopping. But unfortunately for the company, its user growth isn't all that great. The company had 168 million monthly active users (MAUs) at the end of 2017, which was less than a 1% gain year over year. The company has also seen its MAUs decline in Taiwan, Thailand, and Indonesia from 101 million in 2016 to 95 million in 2017.
Facebook's platform, on the other hand, is still booming. Monthly active users were up 14% from the the year-ago quarter to 2.13 billion, daily active users were up 14%, and the company's revenue spiked 47% in the fourth quarter.
The company is truly in a league of its own when it comes to its number of users and the fact that it's still able to grow its base. A recent Pew Internet Research survey showed that 68% of U.S. adults use Facebook, with only YouTube outpacing the platform.
Facebook's massive worldwide user base and its No. 2 position in the digital ad revenue space give the company a massive advantage over its competitors. eMarketer projects Facebook's ad sales will grow to $25.5 billion by 2019, up from $17.3 billion last year. Google still takes the top spot, but Facebook is still far ahead of its next competitor, Microsoft, which is forecast to have $4 billion in ad revenue in 2019.
Winner: Facebook.
Valuation
Competitive advantages and financial fortitude are two important factors in determining a good stock, but it's also a good idea to look at each companies' current price-to-earnings ratio (P/E) and their forward P/E, which looks at future earnings projections.
Company                      P/E Ratio (TTM)                     Forward P/E
Facebook                             31.2                                           18.96
Line                                        121.5                                         N/A
DATA SOURCE: YAHOO! FINANCE. TTM = TRAILING 12 MONTHS.
Both Facebook and Line's shares are trading at a premium, compared to the current P/E ratio of 25 for companies in S&P 500. But Line is noticeably more expensive with its shares trading at a whopping 121 times the company's trailing earnings. That makes Facebook look like the cheaper stock right now.
Winner: Facebook.
The verdict
Facebook is the clear winner in the matchup, based on the three criteria we compared. The company's huge competitive advantage should serve it well for years to come, but investors should also know that the company is facing a few hurdles right now — it's dealing with some bad press over Russians buying political and divisive ads on its platform during the 2016 election, and a new Federal Trade Commission investigation into how the company protects user data. I don't think either problem will derail Facebook, but they could certainly pose some short-term problems.