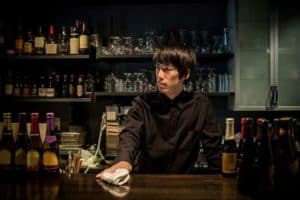 The Coca-Cola Company (NYSE: KO) drew much attention recently with the news that it's entering the alcoholic beverage market in Japan. In a staff interview last month on the company's blog site, Coca-Cola Journey, Coca-Cola Japan's president, Jorge Garduno, disclosed that the beverage maker would soon release a Chu-Hi beverage in the Japanese market. Chu-Hi is a type of canned drink which combines a distilled alcohol known as shochu with sparkling water and fruit flavoring.
Shareholders are certainly aware of the background behind this small experiment. Coca-Cola has accelerated innovation in recent years as it seeks to modernize its global beverage portfolio. A diverse offering is still uncomfortably reliant on the type of sugary carbonated drinks increasingly avoided by consumers. Is this the start of a new, boozy revenue stream for the world's largest non-alcoholic beverage company?
Evidence of tangible interest in a new market
Only Coca-Cola executives know for certain. The company has dropped a number of tantalizing hints regarding its interest in alcoholic beverages since James Quincey took over the role of CEO from Muhtar Kent last year. In an interview on CNBC in November, Quincey remarked that alcoholic beverages didn't make sense for the company at present, yet he refused to rule out future bolt-on acquisition of spirits manufacturers in the future.
And yet, peering into Coca-Cola's beverage innovation over the last year, we can see a greater proclivity on management's part to shift to the very edge of the alcoholic beverage market. For example, Coca-Cola launched Royal Bliss, a brand of premium mixers, in Spain last year, with the initial run available only in bars and restaurants. The high-end, glass-bottled mixers exemplify management's stated desire to increase the number of premium beverages within Coca-Cola's current stable of hundreds of brands.
Coupled with the introduction of a Chu-Hi label in Japan, the Royal Bliss rollout signals to investors that the company's interest in alcoholic beverages is indeed keen. These hints ensure that shareholders aren't totally blindsided in the event of a true push into spirits, wine, or beer in the future.
Examples of smaller companies finding success in the alcoholic beverage market may have caught the attention of Coca-Cola executives as of late. Take alcoholic beverage manufacturer and marketer Constellation Brands. As I've discussed previously, Constellation Brands' model focuses on the high end of the market, and the company's frequent acquisitions of upscale alcoholic labels allows it to generate a double-digit operating margin, which resembles Coca-Cola's own healthy profit profile.
Since Quincey appears to be open to acquisitions in this space, it shouldn't come as a surprise if Coca-Cola mimics Constellation Brands by acquiring a handful of premium spirit or wine manufacturers — or even craft breweries — in the coming years. Surprisingly, such a move wouldn't even count as Coca-Cola's first foray into alcohol. As an article in Forbes pointed out last week, Coca-Cola briefly owned wine companies in the 1970s and 1980s, but the single-digit margins generated from the mass-market vineyards it purchased caused it to rather quickly exit the market.
Japan provides the perfect cover
For now, it's easy to keep competitors and shareholders guessing over future direction. The Chu-Hi initiative can be easily seen as a one-off effort. Garduno was quick to describe the coming rollout as "a modest experiment for a specific slice of our market." And the beverage fits nicely into Coca-Cola Japan's marketing and distribution framework. Canned Chu-Hi drinks are typically light on alcohol content, topping out at 9%, so Coca-Cola can presumably distribute its version through its vending machine network, an ubiquitous presence in Japan's unique vending machine culture.
Last year, I discussed how Coca-Cola avidly participates in the quirky and rapid innovation that characterizes the Japanese beverage market. It's a perfect place for the organization to tinker with alcoholic beverages without tipping its hand toward future initiatives. All the same, the evidence that we'll soon see a deeper interest in boozy drinks from this venerable soda manufacturer is mounting.