In a public webcast on Thursday, executives at Spotify said its stock will begin trading on the New York Stock Exchange, under ticker symbol SPOT, on April 3. The company's direct listing of its stock comes amid significant momentum and heightened competition in streaming music.
Will Spotify be able to fend off growing efforts in streaming music from tech giants like Apple (NASDAQ: AAPL), Amazon, and Alphabet? Ahead of Spotify's direct listing, here are two big-picture items for investors to mull over as they consider Spotify's investment potential in this highly competitive space.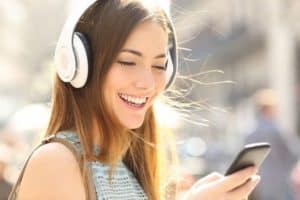 Spotify is a market leader
Though Prime Music, Google Play Music, and Apple Music are backed by massive balance sheets and seamlessly integrated ecosystems of products and services, Spotify has still managed to become the world leader in streaming music as measured by revenue share.
In 2016, Spotify dominated the streaming music market with 42% of global streaming revenue, it said in its recent F-1 filing. Also in 2016, the company boasted 41%, 42%, and 59% of streaming revenue in the important markets of the U.S., Brazil, and the United Kingdom.
Though its market share has likely declined in the U.S. as Apple Music continues to gain steam in the domestic market, Spotify is still the top streaming music service. Measured by monthly active users, Spotify crushes Apple Music — its "closest competitor," according to Spotify management. Spotify has 71 million paying premium subscribers, well over Apple Music's 38 million paid subscribers. Including its ad-supported members — a listening tier Apple Music doesn't have — Spotify has 159 million monthly active users.
Profits are on the way
Though the company's annual operating loss has widened recently, worsening from a loss of $235 million in 2015 to a loss of $378 million in 2017, Spotify said on Thursday that it sees a clear path to profits.
To help investors see how it can swing from operating losses to operating profits, management pointed to the scalability of its business: Though operating losses have widened, they have decreased as a percentage of revenue. In 2014, Spotify's operating loss equaled about 18% of revenue, but in 2017, operating losses represented just 9% of revenue.
Spotify's improving scale is also evident by its rapidly improving gross margin, which has risen from 12% in 2015 to 21% in 2017:
Metric                                           2017                     2016                             2015
Operating loss as
a percentage of revenue               9%                       12%                               12%
Gross margin                                21%                         14%                             12%
Even the combination of Spotify's continued leadership in streaming music and its likely path to profitability doesn't guarantee the company will hold its own against fierce competition. But ahead of its April 3 direct listing, these takeaways about Spotify's business are definitely encouraging.
Another date for investors to mark on their calendars is March 26, when the company plans to provide full-year guidance.