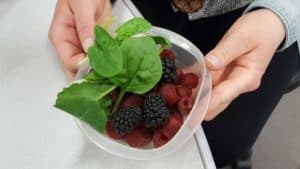 The City of Charlottetown is hoping a new working group will address food-related issues in the capital city.
The idea is to establish a food council made up of public and private stakeholders who work collaboratively on identifying and improving barriers to good, healthy food.
"We have a lot of different organizations working in Charlottetown on different food initiatives," said Ramona Doyle, a sustainability officer with the city.
"It's an opportunity to bring those organizations together around common goals and work together on a collaborated approach on how to address our food system."
A resolution was passed during Monday night's council meeting to establish a food council. The city intends to put the call out soon for applicants who might want to be a part of the group.
Input from those who work in agriculture, retail, distribution, nutrition, and beyond is what the city hopes will help better support both residents and visitors to Charlottetown.
Doyle hopes the food council will help break down the walls between different organizations.
"It's an opportunity to bring people together," she said. "Collaboration is where you get the best solutions, so we're hoping that that comes true for our food council as well."
Recipe for success
The group's first task will be to draft a "Food Charter" — a document of intended actions to address food-related issues. It would be considered a guide and non-binding for the city council.
Food insecurity is one of the largest problems facing the greatest population of residents, according to Mike MacDonald of the Upper Room Hospitality Ministry.
"There's too many people turning to food banks and soup kitchens across the city and across the province," MacDonald said.
"But there's a number of other people who are very close to having to use services like that. It's a huge problem and I think a hidden problem at that."
Collaboration key for food security
MacDonald said his soup kitchen serves up approximately 3,500 meals per month and more than 500 Charlottetown-area families rely on the food bank every month.
"Those are just the people walking through our doors, other organizations are helping other individuals as well."
MacDonald is keen to learn more about the council and its mandate. He hopes the initiative will help streamline supports and services for anyone facing food insecurity.
"You have to start somewhere and hopefully it will grow into something that makes a difference in the lives of the residents of Charlottetown."