System has produced 93,000 kWh of electricity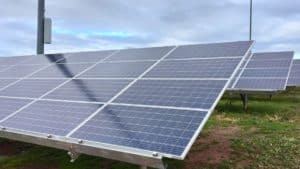 A solar energy system at Credit Union Place in Summerside, P.E.I., has been performing well since it officially came online at the beginning of November, says the city's director of community services.
J. P. Desrosiers said the solar farm has been easy to care for.
"Solar panels are almost no maintenance at this point in time," said Desrosiers.
"They pretty much hang out there and do their thing and generate electricity for us."
Better operation in summer
The system has produced 93,000 kWh of electricity and saved the city more than $16,000 in electricity costs so far.
The four months the solar farm has been operating, November to February, are the worst months of the year for solar generation, so the city expects those numbers will improve.
"We're right on par with where we should be, and we'll continue to grow and build on that as we get more daylight hours and more stronger sun as we move in toward the spring and the summer months," said Desrosiers.
The system is forecast to pay for itself in 10 years.
Desrosier said sport arenas are big energy users, and any way that can be mitigated in an environmentally-friendly way is a good thing.