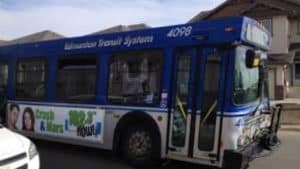 With an idea to make Edmonton a more family-friendly place, city council is considering a plan to let children under 13 ride transit for free.
The qualification is that the kids would have to be accompanied by an adult or an older teen. Councillors were concerned that opening up free transit rides for all kids under 13 — accompanied or not — would have overbearing costs.
Mayor Don Iveson was pleased to hear at a community and public services committee Wednesday that the initiative would cost a few hundred thousand dollars, an amount "I think we can absorb," he said.
The initiative was an election promise for the mayor.
"Mostly just looking forward as a parent with my own young kids, to not be fumbling around for tickets," he said. "And being able to just take them to the art gallery, take them to an Oil Kings game, take them to the park."
Currently, children under age five ride for free. A book of 10 tickets costs an adult $26.25 while a youth between ages six and 17 pays $23.
Anyone getting on the bus and paying with cash pays $3.25.
Councillors agreed to send the proposal to a future meeting where they'll have to approve the funding in a supplemental operating budget for 2018.
Iveson said they aim to have the free rides for kids in place by the fall, but added "We're driving to have this in place by summer festival season."