'For those of us who are in high risk situations, why not?' says funeral home director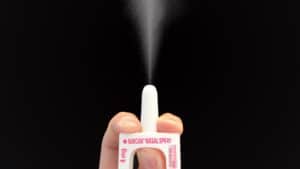 Free naloxone nasal spray is coming to certain Ontario pharmacies, according to the Ministry of Health and Long-Term Care.
The newly-available spray will be of interest to those who aren't comfortable with needles, as well as businesses that work closely with first responders and whose employees could be at possible risk of fentanyl exposure—for example, funeral homes.
London pharmacist Scott Coulter said he's fielded requests from them before.
"In the unfortunate circumstance where someone passes away and the coroner's called, when the coroner's finished the next person that's called is the funeral home, and it's the funeral home's employee's responsibility to respond and be exposed," said Coulter.
"From a safety point of view, it's about making sure that your employees are protected."
Injectable naloxone too dangerous in some workplaces
O'Neil Funeral Home managing director Joseph O'Neil already keeps naloxone spray in his embalming room for just that reason. He said it's hard to tell if a person's body has fentanyl, fentanyl patches or other drugs on it, and that it could be dangerous for embalmers to use the injectable naloxone.
"You don't want anything that breaks your own skin, because you're never sure what kind of pathogens a person might have," said O'Neil.
Although O'Neil has a unique need for the naloxone spray, he thinks that all businesses should eventually carry it as part of their first-aid equipment.
"I don't care if you're a coffee shop, you're a funeral home, you're a restaurant, you're a department store… It's just going to become standard operating procedure for everybody to have one of these," he said.
Free spray part of broader strategy
Injectable naloxone kits are already available for free in Ontario pharmacies, and naloxone nasal spray is available for free via the Middlesex-London Health Unit. Over the counter, the spray version costs 'in the neighbourhood' of $200, said Coulter.
Ontario's Ministry of Health and Long-Term Care announced the free nasal spray yesterday as part of a broader expansion of overdose prevention programs.
Spokesperson David Jensen said the ministry will begin funding the spray by the end of March.
Clarifications
According to Health Canada, skin exposure to fentanyl is extremely unlikely to cause immediate harm. Transferring fentanyl from skin to mucous membranes such as the eyes, nose or mouth is the most common kind of incidental exposure.